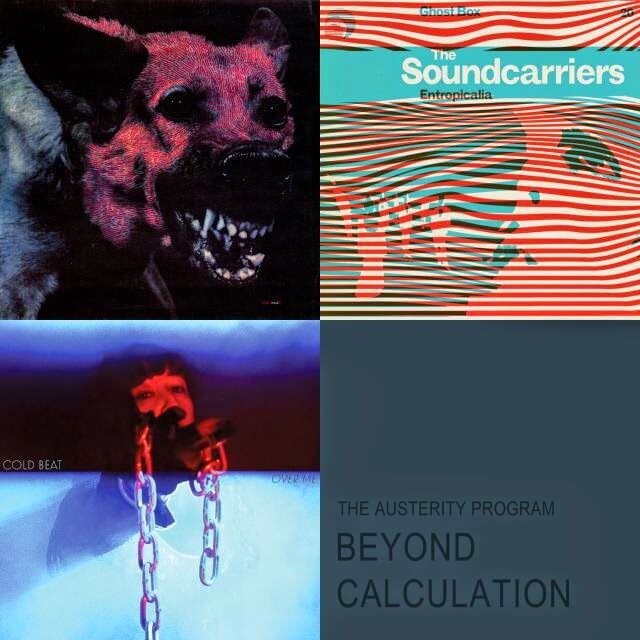 Favorite Records of 2014
* Protomartyr UNDER THE COLOR OF OFFICIAL RIGHT (Hardly Art)
*

The Gotobeds POOR PEOPLE ARE REVOLTING (12XU)
*

The Soundcarriers - ENTROPICALIA (Ghost Box)
*

The Cold Beat – OVER ME (Crime on the Moon)
*

Austerity Program BEYOND CALCULATION (Controlled Burn)
*

Wreck & Reference WANT (The Flenser)
*

Woods of Desolation -AS THE STARS (Northern Silence)
*

Indian FROM ALL PURITY (Relapse)
*
Treehouse INTERZONE (Vacant Valley)
*

Lorelle Meets the Obsolete CHAMBERS (Captcha Records)
*
Coffinworm IV.I.VIII (Profound Lore)
*

Scott Walker + Sunn O))) SOUSED (4AD)
*

Forever Pavot - RHAPSODE (Born Bad Records)
*

Andy Stott - FAITH IN STRANGERS (Modern Love/Revolver)
*

Thou HEATHEN (Gilead Media)
Best Reissues
*

Rowland S. Howard POP CRIMES (Fat Possum)
*

Elia y Elizabeth LA ONDA DE DE ELIA Y ELIZABETH (Vampisoul)
*

Silkworm LIBERTINE (Comedy Minus One)
*

Life Without Buildings ANY OTHER CITY What's Your Rupture)
*

Claude Lombard CLAUDE LOMBARD (MPLS)
*

Lee Hazlewood- LOVE AND OTHER CRIMES (1972)
*

Cha Cha Guittri – FRENCH SYNTH WAVE (Born Bad Records)
*

VA / SORROW COME PASS ME AROUND : A SURVEY OF RURAL BLACK RELIGIOUS MUSIC (Dust-to-Digital)
*

Channels OPEN EP (Arctic Rodeo)
Best Singles
(Shamefully 2014 reflects the least amount of singles I have purchased in a year)
*

Deaf Wish - St. Vincent's (Matador)
*

Fleshworld - A LINE IN WET GRASS (Iron Lung)
*

The Gotobeds - NEW YORK'S ALRIGHT 7"(Mind Cure Records)
*

Milk 'N' Cookies - NOT ENOUGH GIRLS IN THE WORLD 7" (Captured Tracks)
*

Kagoule - IT KNOWS IT/ADJUST THE WAY (Earache)
*

Boris / Asobi Seksu - FAREWELL / NEU YEARS (Sargent House)
*

Gnaw Their Tongues WIR ESSEN SEELEN IN DER NACHT (Self Released)
Best Live Shows
*

Moss Icon / Swiz / Soulside (Black Cat, DC)
*

Protomartyr (Fall Line Fest RVA)
* Channels (Rock and Roll Hotel, DC)
* Andy / Tim / Joel once member of Silkworm, in Pittsburgh for the Karl Hendricks Fundraiser - We also get the jerk award for not being being able to stay awake long enough to see The Gotobeds that night after our long drive to PA.
* Priests (Fall Line Fest, RVA)
* Ancient Sky (Grand Victory Brooklyn)
* J Robbins Solo (Fall Line Fest, RVA)
* Perfect Pussy (Gallery 5, RVA)
* Sundials (Strange Matter, RVA)
Honorable Mentions:
* DAMA/LIBRA - Claw (Northern Spy)
*

Total Control TYPICAL SYSTEM (Iron Lung)
*

Bunny "Striker" Lee FULL UP - reissue (Pressure Sounds)
*

Teargas Rock S/T (Little Black Cloud Records)
*

Hailu Mergia and the Walias TCHE BELEW - reissue (Awesome tapes from Africa)
*

Good Throb FUCK OFF (Sabermetric Records)
*

Meatbodies S/T (In the Red)
*

VA / WHEN I REACH THAT HEAVENLY SHORE: UNEARTHLY BLACK GOSPEL 1926-1936 (Tompkins Square)
*

Behemoth THE SATANIST (Nuclear Blast)
*

Gigi Masin TALK TO THE SEA - reissue (Music from Memory)
*

Happy Meals APERO (Night School Records)
*

Lantlos MELTING SUN (Prophecy)
*

Planning for Burial - DESIDERATUM (The Flenser)
Best Stuff I Watched on a Small Screen:
*

Orange is the New Black
I am sadly not on top of film or books enough to compile a proper end of year list for either.
Ramblings : 2014 and Beyond
*

Can we stop writing that such and such year was great for women in music? There are women who make amazing music every single year. In this case if a tree falls in the forest and the press chooses to ignore it some years, it doesn't mean that it didn't happen. I repeat, there are inspiring and wildly talented women making music every year. Stop trying to just give us the occasional year a couple of times per decade. Let's finally move away from the obsession with gender and focus on the art being created.
*

Restaurants. I get it. You want to please as many people as people with nonoffensive, familiar music but does it have to be the same stupid 300 songs we have been hearing for the past 50 years. I am so tired of the Billboard charting Rock IE Asia, Toto, Boston as well as the alterna hits like "Tainted Love", "Melt with You", and "Everybody Wants to Rule the World". There is so much new music each year and I find it so depressing that the dining culture chooses to dumb it down for their clients by streaming the same old crap. Maybe Foreigner goes best with Budweiser or Coors but I can't take it anymore.
*

Cheers to my first grown up tropical vacation that included and bioluminescent bay, a black sand beach, and the opportunity to read multiple books in a week along side my better half. I recommend Vieques to anyone in the U.S. looking for an affordable exotic trip that doesn't require a passport.
*

As nerve wracking as it was to prepare for, we successfully completed a photo shoot of our home for an upcoming Apartment Therapy feature (coming soon).
*

One of my favorite things about 2014 was how many amazing people I met through making music as a member of Positive No. Negative Fun Records lives at the top of that list. We were so honored to be a part of their singles club. If we weren't a part of this collection I would have put it on my singles best of list. Touring in the winter months might have been the worst idea ever but The Safety House in Philly made it all worth while. Also if you find your band on the road between Dec and March, bring a shovel.
Pittsburgh: Great record shopping, people, food, bars / venues. If you like bridges, tunnels, and pierogies - this is your city! It is also the first time I met Jon Solomon, Karl Hendricks, and had a chance to visit with the Silkworm gentlemen live and in person. So many great human beings squished into a two days visit.
2014 was the year I stepped away from DJing however playing records with Sara (DJ Sister Golden Haze) is always a treat. I am so fortunate to have a friend in town with a passion for French records too. I love that our passion for this niche of music has also turned into an annual tradition of guest DJing on WRIR during DJ Carlito's If Music Could Talk show together around the time of the French Film Festival week.
I have been slowly writing a short story series about my music obsessed life on my music blog
- here!
The series is called Tales of a Female Music Enthusiast and as my memory has more and more bad days, I am using my good days to capture what I can.
In grade school I had a friend who was hard of hearing so learned the sign language alphabet to talk to her from across the classroom. This year I was able to communicate with a deaf neighbor during an emergency situation. A large number of police and rescue people had turned up on our street in search of a missing woman who could be heard ever so faintly yelling for help in the woods by the river. He looked so surprised and relieved that someone could explain to him what was happening and more importantly, the woman was found and she was okay. This was an unforgettable moment of 2014.
Kenny and I have spent so much of the year alternating caregiving for each other. I really hope 2015 means fewer reasons to break out the crutches, use a cane, or visit a hospital. We are ready for a healthy new year to go with our otherwise happy lives.
If the Salinger documentary is correct, 2015 is the year the world will be gifted a new J.D. Salinger book. I really hope there is some truth to that rumor.