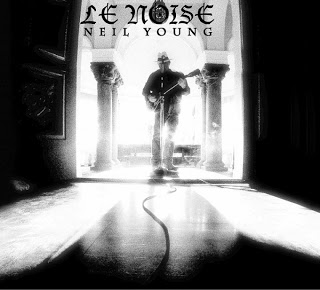 This posts also doubles as my favorite record of the year announcement.
When Neil Young's long time friend, producer, and multi-instrumentalist Ben Keith passed away earlier this year, with him went 70% of Neil's repertoire that he swears he will never do again with a band.
(from a Chicago Tribune interview Neil recently gave)
"There is no sense in trying to redo what was already great. There's no payoff in that. That's not what I'm about. I'm thankful to have known Ben and played with him for 40 years. He was one of my best friends and I miss him very much. I don't see myself playing those songs with a band in the future. I can play them by myself, but I can't play them with a band. I just don't think I could handle it. I don't know anybody who can do what he did. It closes a door on a period of my life, and it also opens up a giant space for me to be creative in the future."
Enter the making of Neil Young's 2010 release Le Noise.


Le Noise is like so many of Neil's releases, it is a highly emotional passage exploring all his trademark themes in first person. There is grief, anger, love, frustration with a heavy dose of contemplation from a man who has hasn't led a perfect life and is trying his hardest to make peace with his journey through life. I think what makes this body of work so truly remarkable is this isn't a record anyone one else could possibly make. It is Neil Young being himself as a 64 year old man, building upon decades of experience using just his voice and his guitar. Then, guiding him through this recording process was Daniel Lanois, another industry veteran who had worked with everyone from Eno to Dylan. When you have two masters of their trade working in harmony, their talents blend into something I can only describe as utter balance and perfection. It is sonically explosive and raw yet below the static rattles there is a tenderness brought on by layers of delay effects and the tortured vocal tones of a man who has been around and the around 3 more times. Neil's playing style is confrontational but it is diffused gorgeously with great deal of reverb delay space in Daniel's production choices. The overall final sound of the entire reocrd is disciplined yet unpredictable and free flowing.
There are few records are what I would pretentiously call a listening experience but this one of them. I refuse to listen to just one song from Le Noise, I have to play to it from start to finish. I have never even considered myself a huge Neil Young fan, none of his records have ever made my top 10 no less number one slot so selecting this as my record of the year comes as just as much of a surprise to me. In a year where so many records offered nothing beyond a rehash of something I have heard a billion times before, this old timer delivered something new born and one of a kind.
Tonight's show from 7pm to 9pm on WRIR (www.wrir.org / 97.3 in RVA) is a celebration of this stellar new release as well as a look at his 40 plus years in music and a sampling from the musicians he has influenced all the way. With a catalog as large as his and with so many artists he has inspired along the way there are probably a thousand different ways to approach this show but since I wanted to highlight his new record I started from there and tried to offer a 101 to Neil's wide spectrum of playing styles via some of his lesser known songs.
You can stream
Le Noise
/ watch him perform every song via youtube
here.
Download the two hour radio show
here
.