1988!
By the end of the year I had my own car

*

, my hormones were in the driver's seat, and I transitioned from a record store customer to a record store clerk.
In short, it was a very good year.
The first stop off of the Path Train from Hoboken to New York City is the Christopher St. station. Just a few blocks away was and still is Rebel Rebel; a West Village record store not much larger than my teenage bedroom. Imagine a crowded shoebox that you don't walk around in but rather inch your way through. There is no empty space in the shop and to this day every inch is packed with ear and eye candy. Records. Singles. Music mags. Posters. Picture discs. Used. New. There were also these new things called CDs but in 1988 I didn't have a CD player yet and the technology was still too expensive for a kid like me who only had a part time job and a $5.00 weekly allowance from my parents.
Rebel Rebel was always the first place I visited when I stepped off the train. I had a small amount of money to spend and records always took priority. Parent free, I explored bins and boxes of domestic and imported records of bands I newly worshiped: New Order, Cocteau Twins, The Cure, and The Smiths. The store owner Ofer (also known as David for those who fear exotic first names) was amazingly kind to me and I was treated with the respect of an adult. I was never given a stink eye reserved for assumed shoplifters or was grunted at like so many store owners would do upon seeing a teen in their store. Here I was smiled at. I was asked if I found everything I was looking for. I had new albums recommended to me. I wasn't invisible in this magical place. I was listened to and offered thoughtful feedback. For that I have remained a life long customer. (IE you too can shop there right now!!!!) My day trips to the city included a variety of other shops and parking lot flea markets but Rebel Rebel was my anchor and sanctuary.
I had experienced my first record store employee crush at the Crazy Eddie on Rt. 17 in Paramus, N.J. but it was Gary, an employee at Rebel Rebel that crossed over the counter and into my world. Before things like the internet, our friendship developed over many of my store visits.
Oh Gary. He was twee before I even knew what that word meant with a slightly gothic bent. He was delicate, pale, and sweet. He had pin straight hair and shyly offered a crooked smile when he spoke. Just seeing him through the store window would fill my stomach with butterflies and joy. As an enthusiastic customer, it was exciting to discover that we had similar tastes in music; city boy verse suburbs of Jersey girl. He had the best job in the planet in the eyes of this 16 year old and was full of music knowledge that I was hungry to acquire. We talked endlessly about bands and records. By January of 1990 we were friendly enough to go on a mini road trip together where we followed Faith No More, Soundgarden, and Voivod to Boston and back. My takeaway from that trip was that all of the bands were remarkable live, Mike Patton was pint size in person, and that there is a time to visit New England and mid winter is not it. We were painfully naive. We ended up snowed in and stuck at his friend's apartment in Boston for a few days. I also discovered that Gary was the eternal nervous gentleman.
We saw each other intermittently for years through mostly record store visits and it was always very innocent. He has remained in the NYC area but eventually our lives just intersected less often. Gary Olson to the rest of the world is known for his band Ladybug Transistor. He currently records bands in Brooklyn, travels often, and is still as charming as the day I met him. Recently I learned from him that a Nirvana shirt I had left behind at his parent's house ended up passed along to his friend Josephine from Love as All. I could begrudge such a loss but I am such a huge Love is All fan that I am actually thrilled. P roof!
Meanwhile back in New Jersey, I had met a handsome athletic boy at a party in Franklin Lakes, a town just outside of what I considered close to my own. We dated briefly the spring of 1988 or whatever you call it when one of you doesn't drive yet AND you don't live in the same town. The only reason this person remains significant to me to this day is that he introduced to me Chris.
Chris was the first person I met who existed locally and exuded what I can only describe as rock star cool. He seemed to sleep in his black sunglasses. His hair was unruly like Paul Westerberg's at the height of The Replacements. He played guitar well but didn't make a big deal out of it. Chris was the first person who seemed to care about music like I did that lived in a 20 mile radius of my parents house. If all of this wasn't enough to sway an alternative music loving high school junior girl, he was going to attend my college of choice, NYU. It also turned out that Chris also worked at an indie record store in Pompton Lakes , New Jersey. It was called Flipside and while I had never been there before, I would make it my new mecca. I turned my focus away from New York for the time being and dedicated myself to befriending any and all record collecting drivers who could take me there. I had never heard of this little town before but by the time I got my first car in November if 1988, I could get there blindfolded.
Much like Rebel Rebel, Flipside was and still is wall to wall stuff. It is seedy, grimy chaos and I loved every inch of it instantly. It gave me hope that if this kind of place existed just a few zip codes away, anything was possible. Maybe I didn't have to feel so alone. There were definitely others like me and I quickly learned the number of bands and records to discover were endless. Much like the universe filled with stars, planets, and galaxies, the world of music appeared to be infinite.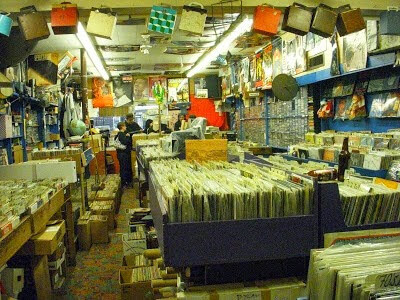 There is no subtle way to describe my feelings towards Chris at this time. My surging teenage hormones had fermented into lust. I ached for my XL shirt and army shorts to press up against his perfectly broken in button flys. Chris was asked by the owner of Flipside to name his successor when he went off to college and remarkably I was passed the torch. ME! I couldn't believe it. A personal milestone had been reached before the age of 17. I had my dream job and I was going to spend the summer being trained by the boy I burned for.
That summer was as sweaty haze of groping behind the counter, making out when we thought no one was looking, and the fierce tangle of bodies that erupted the minute the doors were locked at the end of the day. There were hands down pants, breasts groped under bras, and while most 17 year olds are just excited to finally be driving or working a cool job, I was also having a secret fling that would make Anais Nin blush. Chris and I never dated nor did we spend much time together outside of the store but for those few short summer months, we had a very, very good time.
By the winter of 1988 I was the one behind the counter offering music freaks like me a home away from home. I couldn't have guessed how many of us there were and it turns out, there was an army of us. It was every walk of life. Every music genre stereotype you could imagine. We welcomed everyone and treated each person equally. We were a massive family of miscreants and weirdos who had been exiled from the rest of the world. I sold them records and they taught me about the world outside my high school and bedroom walls. I spent the next 5 years building up friendships that remain in place to this day. I dread to think of what direction my life would have taken had I not discovered this store, been taken in, and welcomed into the family of regular customers. Without Flipside, there would be no me.
Chris left for college and we rarely saw each other again after that. Today he is a family man that has gone on to be a very respected filmmaker / director (like two Emmy Awards and two International Documentary Association Awards). Chris dropped me a line a few years ago to mention that he had started shooting a documentary about Flipside. As it turns out this record store isn't just a record store for him either. It is shelter for the lost. It is medicine for the sick. It is a school for those interested in music. It is a fix for the addicts. It is fertilizer for the freaks. It is a sacred place for the God fearing and the Godless alike. And as it turns out, the back room with the trap door to the basement and a jukebox in the corner is a pretty good place to make out as is the parking lot in the back. There are an endless number of spots behind the store for two people to steam up a car and the owner of Flipside usually has some makeshift garden back there so keep an eye out for veggies in the summer.
* My driver's test was in Lodi NJ, home of The Misfits and right behind Satin Dolls, the actual shooting location of Tony Soprano's strip club Bada Bing.