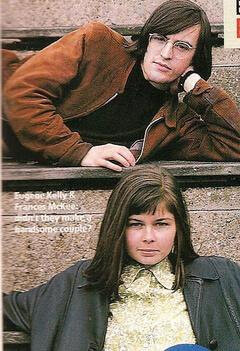 Like so many other people in the early '90s, my introduction to the Scottish boy/girl duo The Vaselines came from another band; Nirvana. The American grunge band went on to cover three of their songs during their career; often playing them live (no less on MTV Unplugged) and recording their own versions as well. Nirvana were practically apostles to the group and like so many fans of them at the time, whatever band Nirvana pitched (Os Mutantes, Daniel Johnston, Beat Happening, The Melvins, Raincoats, and The Wipers to name a few), I chased down.
The Vaselines catalog was not very extensive at the time so felt lucky to have come across a import collection of their EPs in the early '90s. For those not as fortunate, Sub Pop Records released the first of two Vaselines collections in 1992 offering Americans the first real opportunity to explore their catalog in full. (The second , even larger Vaselines' collection was also released last year)
The Vaselines style of music was something of a revelation to me at the time with perhaps Beat Happening being my only point of reference to their music style (male / female push and pull dynamic too). They were adults who played their music with what appeared no fear of sounding / being imperfect which in turn gave their songs a very youthful air. Many would call it unprofessional sounding but I loved the intimacy of listening to a band's music in what sounded like a nearly raw state with missed notes and occasional clumsy time changes. It was childlike however the lyrical content was often very adult, carrying sexual charged overtones... a highly unusual usually thing for the time since since most of their indie rock peers prided themselves on a more asexual approach to pop. The very notion of innocence flirting with sexuality in a bare bones musical setting hit me in a way I can only compare to something as simple and marvelous as a first sloppy teenage make out session in a poorly furnished basement of a parent's house.
The Vaselines broke up (as a couple and a band) in 1990 and as Nirvana's popularity grew to beyond cult status (no less Kurt naming his daughter Frances after Frances in the Vaselines), fans have continued to discover the music of The Vaselines which has allowed a following of their own to grow. While there was been a brief reunion in 2006, besides several solo projects and collaborations, The Vaselines have remained a mythical group most of us never thought we would hear from again in the original form no less touring.
Enter 2010. We have a new record by The Vaselines (original line uo) and they are touring America starting in just a few days. Rejoice! Like many others who have followed the band for two decades now, it seems like a minor miracle has occurred and I am elated to have a chance to finally see this band live. The fact that I get to dedicate two hours to their music tonight on air is just gravy.
Tonight from 7PM to 9PM only on WRIR you will hear such artists as the Young Marble Giants, The Raincoats, The Pastels, The Clean, The Lemondheads, BMX Bandits, Teenage Fanclub, The Pooh Sticks,
Orange Juice, The Shop Assistants, and more. For Richmond, VA locals it is 97.3 on your dial and for everyone else you can listen live at
http://www.wrir.org/
.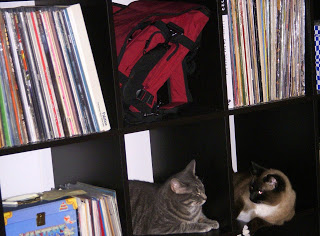 I am such a nerd for The Vaselines that I even named my cats after them : Eugene (left) and Frances (right)