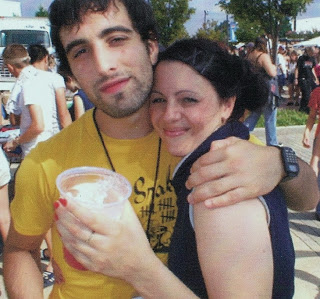 Tonight from 7PM to 9PM on Cause & Effect all four members of Cave In have come together to create the ultimate 2 hour playlist that reflects all of their their influences as a band from their earliest years until now. You can stream the show live at
WRIR
or tune in the old fashioned way on your radio in Richmond, VA at 97.3FM on your dial.
My obsession with the band oddly enough came from a track they had on the Bad Brains tribute album called Never Give In. Their rendition of I Luv I Jah struck me as the most bonkers epic take on the reggae song.
I had previously misjudged Cave In to be just some metalcore band and while they were rooted in that, by the late '90s they were already exploring new sonic directions of prog and psych rock too. A mutual friend at Jade Tree Records connected me with singer/guitar player Stephen Brodsky and thus began our pen pal friendship where we talked about our joint worship of bands like Failure and Giants Chair. We met in person (along with the rest of the band) that same year in 1999 when Cave In played with Neurosis in NYC. My friendship with the entire band (but still mainly Stephen) spiraled out from there. I have known them during their various career phases; packing tiny clubs all the way to playing arenas and back again. There was a major label stint, lawyer woes, van disasters, a lost band members in a foreign country, injuries, three years off and all the various musical projects that blossomed from there (including one with me as Ringfinger), weddings, children, and general growing up and older going ons. This makes Cave In more than just a band to me, there are so many memories attached to them, so many places and people I associate them to. It is nearly impossible to summarize the meaning of them to me in just a blog post so needless to say tonight's radio show carries a great deal of personal attachment and I am thrilled to have the opportunity to share my passion for them tonight.
Twelve years later here I am with the opportunity to celebrate their diverse influences and their equally eclectic back catalog of material for my radio show. Stephen, Adam, Caleb, and J.R. have worked together to dig up the songs that have inspired them in their lifetime as well as each one of them picking their favorite Cave In and favorite off-shoot band song. Usually when a band picks the playlist for my show really one member steps up to the plate and tackles it but not this time.What I have always loved about this band is how all four members seem to collaborate and work so well together on and off the stage and tonight's show is another example of their ability to come together and make something interesting happening.
The same thing can be said of Cave In's newest release on Hydra Head too; White Silence. After nearly 15 years of being a ridiculously talented band, to me this album is a nod to their early roots in hardcore and their younger years yet played through the hands of men who have sharpened their skills to a master level. I think you can tell musically when a band is truly a unit and all the members are truly working with each other and this is something Cave In does exceptionally well as longtime friends and as fellow band members. Tonight's radio show doesn't just honor their music, it is a direct reflection of how remarkably well these guys work together and know each other.
DOWNLOAD TONIGHT'S SHOW IN FULL AND READ THE BAND'S NOTES
HERE.
Adam and Stephen at Brownies in NYC. CMJ 2000.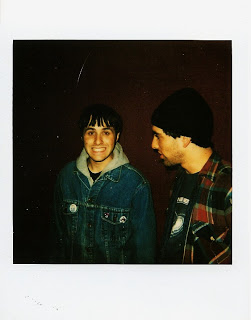 Caleb and Adam in the basement of Brownies 2000 CMJ.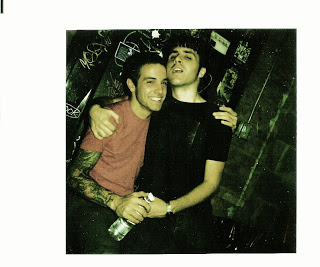 J.R. at CMJ in 2000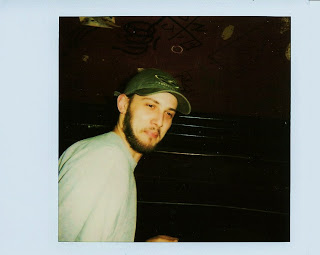 Adam and booking agent Matt Pike. CMJ 2000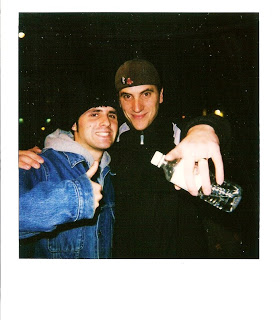 Santos! He was one of the band's roadies that night but you may also know him from such bands as Old Man Gloom.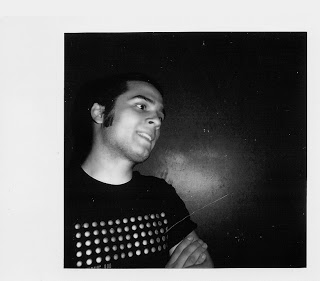 Stephen and I at Brownies, same night.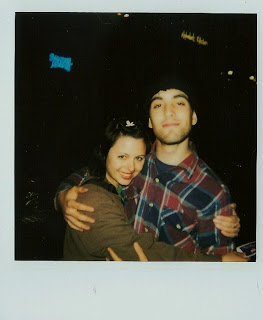 I believe this 200 CMJ showcase included Teddy Leo, hence this photo. Bug eyed Steve appears in oh so many photos but I especially love his t shirt - a Brodsky favorite.
Caleb at Nanci Raygun in Richmond in the mid 2000s- picture taken by JR I think?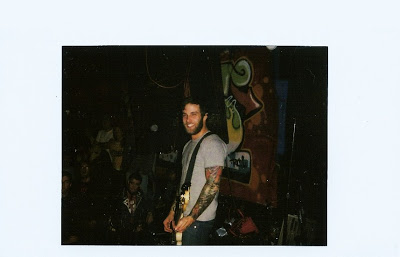 This photo is of Stephen as seen through a crazy light bright toy I have in my apartment, 2008 I think.