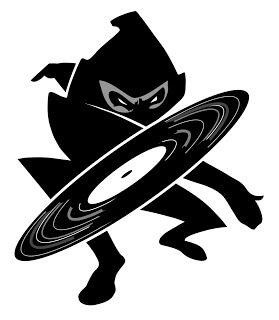 And I thought 1990 was the best year ever because I was graduated from high school, had a cool job in a record store, and moved out into my very own first home away from my parent's home in Hoboken, NJ. Little did I know that it was also the year that so many life changing and inspiring independent record labels were taking root. Matador, Merge, and over seas.....Ninja Tune Records.
Not to take away from all the things these other labels have done but Ninja Tune is a music industry game changer on so many levels. The DJs Matt Black and Jonathan More AKA Coldcut were already legends for bringing the art of remixing to an entirely new level but they took inspiration from their punk roots and went the DIY route by creating Ninja Tune independent of any major label tie. I find this label remarkable because they not only led the way for the most original DJs from around the world who treated their turntables more like a canvas, but they had the vision to create artwork for these releases that connects the music to a solid cohesive look for all of their album art. A Ninja Tune release doesn't just sound miles ahead of what everyone else is up to, it's the best dressed record at the party, and live....their artist roster deliver their tracks with the kind of genius better found in ivy league schools. They also didn't pigeonhole themselves to one genre, they redefined what club music could be and left no genre unexplored for sampling and mashing. If there was any doubt that a DJ was not a musician, Ninja Tune changed all that. Oh, and their videos? I still can't fathom how an indie label produces so many bombastic visuals.
If all of this wasn't impressive enough, the UK label was smart enough to create a division in North America and hire ex Cargo Distribution guru and man of exceptional knowledge in music, Jeff Waye in Montreal to lead the way. Having an office over seas opened the label up to an entirely new market and I was fortunate enough to be a part of this phenomena. I worked for the distribution company that sold Ninja Tune for over ten years and it wasn't until I worked on this show did I grasp how immensely lucky I was to be a part of such groundbreaking music. Sometimes when you are in the eye of the storm it is impossible to see and understand how massive the thing really is no less where it will rest culturally in another decade.
Tonight on Cause & Effect from 7PM to 9PM EST I will be playing 2 hours of music from the Ninja Tune Records catalog handpicked by the man, the myth, the legend himself, Jeff Waye. I can't say this on air but FUCK YES! Tonight is going to be a great show. No, a FUCKING BRILLIANT SHOW.
Stream it live at www.wrir.org or listen locally in Richmond, VA the old fashioned way at 97.3 FM on your dial.