September 10, 2011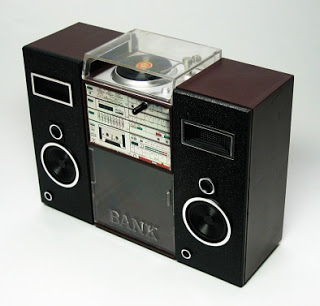 You place a coin on the mini plastic turntable (made in Japan) where you would normally place a record. When you press the black button it then moves the arm the turntable and the record rotates. "I think" it then shoots the coin into one of the speakers.
I say "think" because I can't find any other articles about this toy bank. I originally found it on
this GREAT Japanese site
but since the page is translated by Google, it is a little hard to understand.
Posted by Lightning's Girl
1 comments

August 17, 2011
Check out his auction for a rare Tomy Voice-Corder. Released in 1972.
It is a complicated and pricey toy allowed kids to record one-off dub plates on colorful plastic-covered cards which could be sent to friends and family as 33 RPM audio postcards.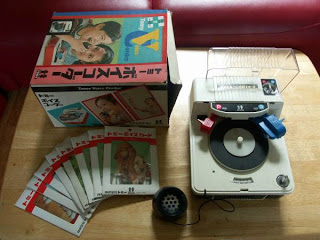 Read more about it
here
.
Posted by Lightning's Girl
1 comments