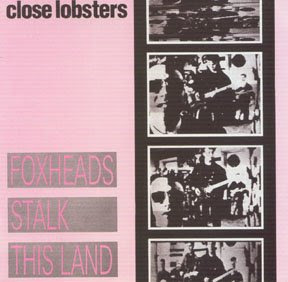 Artist
-
Close Lobsters
Hometown
- Paisley, Scotland (1986-1989)
Label
- Fire Records (primary label)
RIYL
-
C86
, The Smiths, jangle-pop, The Field Mice, early R.E.M.
Discography thanks to Wikipedia:Singles/EPs

"Going To Heaven To See If It Rains" (1986, Fire) (#9)
"Never Seen Before" (1987, Fire) (#11)
"Let's Make Some Plans" (1987, Fire) (#17)
"What Is There To Smile About?" (1988, Fire) (#17)
Evening Show Sessions (1988, Night Tracks)
"Nature Thing" (1989, Fire)
"Just Too Bloody Stupid" (1989, Caff)
CLASSIC TUNE

Albums
Foxheads Stalk This Land (1987, Fire) (#12)
THIS IS THE RECORD TO OWN
Headache Rhetoric (1989, Fire) (#7)
The Close Lobsters have been a household favorite for about a year or so now. My memory is crap so I can't be certain how this band made it into my collection but I suspect it had a little something to do with the C86 comp I have somewhere in my CD collection. It's no secret, I am an Anglophile of sorts and the late 80's twee guitar pop is a genre I can't seem to get enough of. This whole style of music is the exact opposite of tough guy and is the perfect ying to all my black metal records yang.
And I know it is a terrible name for a group, you can move past it, I know you can. They couldn't decide between naming themselves with The Close or The Lobsters so the combined the two and well the rest is history. Bad band name history.