Why double barrel?
As far as I can tell this is brillant slang relating to a weapon that can't fail thanks to the addition of a second barrel. It swings faster, the action can't jam, and it has the abilty to to shoot past a broken lock or dead round. Bad ass indeed.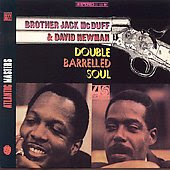 Artist – Brother Jack McDuff & David Newman
Title – Double Barrelled Soul (The cover has Barreled spelled incorrectly)
Label – Atlantic
Year – 1968
Record Line Up: Jack McDuff ( Hammond B-3 organ); David Newman, Danny Turner (alto & tenor saxophones, flute); Leo Johnson (tenor saxophone, flute); Melvin Sparks (guitar); Abe Blasingame (drums).
Hand clapping, ass shaking, amen hallelujah swingin' Sunday morning hard bop- soul- jazz at its best. This comes highly recommended.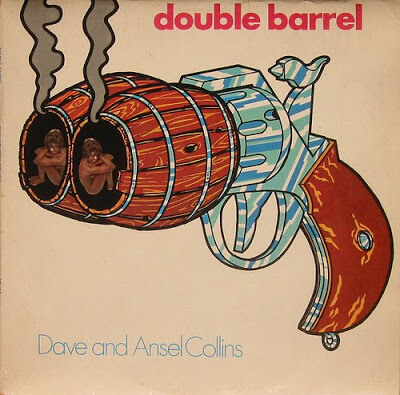 Artist – Dave and Ansell Collins
Title – Double Barrel
Label – Big Tree
Year – 1972
Dave Barker was a session vocalist for Lee Scratch Perry and Ansel Collins was a keyboard player for many greats including the Upsetters, The Mighty Diamonds, and Jimmy Cliff.
I went through a bit of a Ska phase late last year and a good friend /DJ pal offered this rare LP to me as a wedding gift. As I understand it this record is a classic among Ska collectors as it was influential to the birth of British Two Tone Ska in mid to late 70's.
The single Double Barrel reached #1 in the UK and #22 in the U.S in 1971. I would have said this first was the reggae song ever to be an international hit but I believe "My Boy Lollipop" by Millie Small was the first reaching #2 in the UK, # 1 in Ireland, and #2 in America in 1964. While Millie's hit remains in superstar status 40+ years later, sadly Double Barrel has nearly vanished into obscurity…at least here in the states.
SIDE NOTE - CHECK OUT THIS MILLIE RECORD COVER!!!!!