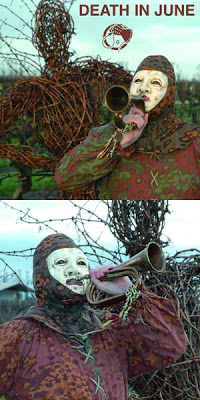 Artist - Death in June
Title - The Rule of Thirds
Label - NER
Street Date - Out now
Hometown - UK / Australia
RIYL - Neofolk, post-industrial, masks, Smog, miltary symbols, Boyd Rice, dark wave, German fetishists, Wicker Man, MAZZY STAR
This brand new release snuck out there on March 3 and if my husband wasn't a closet goth doing his homework, this record would have slipped right by me.
Sam's Review:
In case you didn't notice, I added Mazzy Star to the RIYL list. I think one of the reasons why I love this band so much is because of the moody Mazzy Star like songs! Seriously if you like Mazzy Star you would probably like this band, especially this record.
Ok so this release is more like But What Ends When The Symbols Shatter/Rose Clouds of Holocaust: lush acoustic songs with brilliant hooks. Maybe I'm the only person who likes Death in June for their "brilliant hooks" but still.... This record sounds more happy than anything I've heard by them; less minor chords, more major chords, and butt loads of 7th chords. It still is gloomy and depressing but if you listen to it you will hear what I mean.
Stand out tracks: Forever Loves Decay, The Rule of Thirds, My Rhine Atrocity, Their Deception
As always you can expect awesome and limited packaging from the queens... I mean guys from DIJ. 1500 2 x 10" pressed on black vinyl and 500 2 x 10" picture disc. You can also buy it on CD too. The cover art of this record is awesome!
For samples go to emusic.com (if you are a subscriber)
You can buy it at:
http://www.soleilmoon.com/
(they have an mp3 sample of one of the better songs on this record)
http://www.tesco-distro.com/
Here is a video of one of my favorite Death in June songs from NYC in 2002.