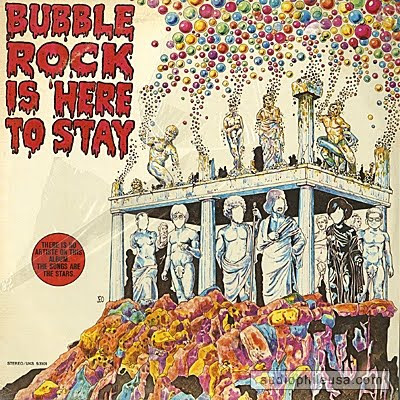 My curiosity was peeked by this album. I had no idea what it was when I found the record in a used a bin but thought the combo of the cover art, the odd statement "There is no artiste on this album. The songs are the stars" was intriguing. There is a more in depth description of this concept album on the back where it goes on to explain that this record is filled with covers of classic songs "heard as they have never been heard before." There is no mention of who the group or who the man is behind these songs and so began the mystery.
The record itself, all be it tempting to call it a toss away kitsch item, really has some interesting tracks on it. "Satisfaction" (Stones) is delivered in a super mellow fashion, "Reflections" (Supremes) sounds like a string heavy Bee-Gees tune, and I swear to you that "Sweets for my Sweet" sounds like a Wolf Parade song. Needless to say what I was expecting to be a joke record isn't really a joke, I like it, I really do.
The Internet search began and I quickly learned that the man behind this album is Jonathan King. A man 10 times more complex and fascinating than I could have ever guessed. He is a British singer / songwriter / producer / label head ....that burst into the scene in the mid '60s and has managed to keep his name in the press (in the UK at least) ever since.
He has a long resume in the music world and here is just some of it:
He has had songs chart in both the US and UK (and yet is not a familiar name to most)
He founded Decca Records
He signed Genesis when they were still a high school band
Formed another label called UK Records where besides releasing artists like 10cc often recorded wildly popular singles under pseudonyms
He was one of the original backers and producers for the Rocky Horror Picture Show
Hosted UK TV shows
Became a music journalist
He accused the Pet Shop Boys of plagiarizing Cat Stevens (It's a Sin - V- Wild World) and to just because he felt so strongly about it, released a cover of Wild World using an identical string arrangement used by the Pet Shop Boys to prove his point. In an turn of irony not only did the single flop but the PSB took him to court for plagiarizing them and won.

"In 1989 Castle Communications released The Butterfly That Stamped, a two-CD collection of King's most well-known and entertaining recordings from the previous 24 years, under all of his varying guises. This included many of his more satiric pieces, including his heavy metal version of "Sugar Sugar" credited to Sakkarin and his ska satire "Johnny Reggae," credited to the Piglets"
Created a message board based around promoting and discussing unknown / unsigned bands
Became a radio DJ
A huge fan of Harry Potter, created a tribute CD to the books in 1999

What would be a major talent without scandal? In 2001 he was accused and charged with sex crimes...molesting young boys (age 14 and 15) some 30 years ago. He was found guilty, given 7 years in prison and asked for appeal which while the trial was in motion, he was paroled from jail in 2005. To this day he claims innocence.

In 2007 he released a record which features a single many considered defending a very well known UK serial killer Dr. Harold Shipman.
In 2008 he released a comedy-documentary called "Vile Pervert - The Musical" which features 21 characters all played by the man, the myth, the legend Jonathan King.
To all of that I can only say wow. Who knew? Well I guess we all know now. And who knows what else he has done / accomplished that hasn't made it to print.