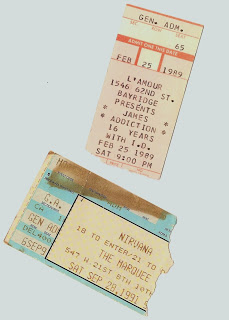 Just found these ticket stubs floating around in one of my closets at home.
Notice how the L'amour ticket actually says James Addiction rather than Jane's Addiction. Ooops. I remember this show well. It was my first experience with the terror of realizing that someone in the pit had a knife and with the frenzy of people pushing, shoving, and doing there own versions of dancing, that there was no way of telling who it was with the knife to avoid them. I opted rather quickly to stand on the outer edges of the crowd and skip the whole trying to rock out thing. Demolition Boy opened up but I don't remember a damn thing about them.
Here is the JA set list from that night:
Up The Beach
Whores
1%
Idiots Rule
Had A Dad
Ted, Just Admit It...
Standing In The Shower... Thinking
Thank You Boys
Pigs In Zen
Summertime Rolls
Ocean Size
Mountain Song
Trip Away
Jane Says
This Nirvana / Melvins show wasn't really a fond memory. I has spent the years leading up to it seeing both bands play at tiny venues where I was just a few feet away from them on stage. This was the first time I was seeing both bands in a bigger, less personal space and it was definitely the first (big) hint that Nirvana was about to become superstars.
Here is the set list from that night:
Jesus Wants Me For A Sunbeam
Aneurysm
Drain You
Smells Like Teen Spirit
School
Floyd The Barber
Sliver
Breed
Polly
About A Girl
Rape Me
Blew
Been A Son
Negative Creep
Endless, Nameless
Come on Death /Vendetagainst