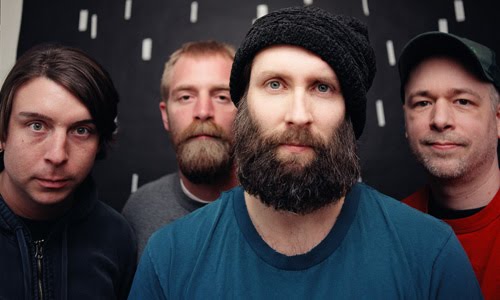 Here are the top 10 reasons I am really giddy about the Built To Spill themed show this week.
1) My introduction to the Treepeople came in 1989 by my Sub Pop sales rep (I was working at a record shop at the time), Mark Pickerel who at the time was also the drummer in the Screaming Trees. Knowing I was a fan of indie rock in the vein of Dino Jr and Pavement as well as grunge, he told me to pick up a copy of a then new Treepeople 12". I couldn't predict at the time that the band members would eventually split ways with Doug starting Built To Spill years later, however at the time, The Treepeople became my favorite band from the NW. I collected them obsessively and as you will see, became a very important part of my of '20s.
2) I didn't just love the Treepeople, I worshiped them. Their split single with the House of Large Sizes is still one of my top 10 singles of all time. They recorded the song "Neil's Down" again, later, but it never packed the same punch as this original version. It was angsty, obtusely melodic, and filled with crazy guitar parts that I still can't say I am tired of.
3) The Treepeople made me want to learn how to play guitar, so I did. By 1990 I was spending evenings with my live in boyfriends Gibson and trying to my hardest to make friends with the instrument. I wasn't in a band at this point but their music made want to learn how to be a musician so I could make people feel as good as I did when I played their records.
4) I moved to Hoboken, NJ the summer after I graduated from high school. In the Spring of 1991 I got wind that the Treepeople were touring in the area and in turn, with mutual friends connecting us the old fashioned way - by letters mailed back and forth, they became the first band to ever stay with me. I was 19 and honored to have my favorite band sleeping in my cramped quarters. They stayed with me for several tours, even after Doug left the band, but they hold the sacred position as the very first band to stay with me at my first home that wasn't my parents for days at a time in turn becoming good friends.
5) Through a string of random events I found myself faced with the opportunity to work at the record label C/Z records in Seattle in 1994. This label happened to not only have the Treepeople but the recently formed Built To Spill. I had the opportunity to be a sales rep at the label who carried two bands I LOVED so passing this chance up never crossed my mind. I moved to Seattle from NJ in the Winter of that year. For some people liking a band is enough but for me these bands were the holy grail of talent to me and were worth picking up my life and moving it for. No really.
6) The Treepeople faded away that year but Built To Spill was in their baby stages as a band. Sadly they jumped over to Up Records before I had a chance to sell a proper new release by them but the little girl super fan is proud to say I am thanked in the liner noted to Built To Spill's first release Ultimate Alternative Wavers.
7) I have shared the stage twice with BTS. Once in a very stripped down version of my band at the time in Olympia, WA at Yo-Yo A-Go-Go fest in 1994 (Fugazi , Beck, Excuse 17, Halo Benders, Karp, and so many more bands played!) and once at Maxwells in Hoboken, NJ in 2005 (I think?). There is nothing more humbling than sharing the bill with an artist you have looked up to for so many years.
8) Oh the memories. From 1989 until 1999, I listened to a whole lot of music Doug Martsch has been a part of. Treepeople, Halo Benders, BTS,....there are a slew of his records that I have spent a great deal of time with. That isn't to say the later / more recent records by BTS aren't good but I just happened to have spent an extraordinary amount of time with those earlier records.
9) I don't have enough fingers and toes to count the number of times I have seem Doug play in his various bands. I have to confess, I haven't seen them play in over a decade but more than anything, because there are memories I don't want to mess with, and for BTS...I have many special ones. They are nearly so perfect, I don't want to risk altering their place in my history book. I have said this time and time again. You never know who from your past is going to end up doing what and while I treasured this band, I never predicted them surpassing cult status and still filling theaters in 2010. Doug is the first person I know who went from CBGBs stage at 2AM on a Wed (I even watched Crispin Glover accidentally fall across their show that night as he was just wandering around that part of the city, ask who was playing, shrug with disinterest, and walk back out the door) to headlining huge shows for multiple nights in major cities across the planet. I recall one conversation Doug and I had early on at a bar where he was really frustrated as a musician, was nervous about being a touring musician with a kid on the way and was stressed about leaving a wonderful lady all the way back in Idaho. It was one of those moments where if I had been told he dropped out of music that year, I wouldn't have questioned it. It was before his pseudo fame / success as an artist and I have had so many friends hit this breaking point and decide to give up on music. Obviously Doug didn't give up (thankfully) and more than 7 records later, here we are.
10) I feel like a loser collecting records and having all these stories trapped in my head that 99% of the population wouldn't give a crap about but then a show like this one comes along, and I feel a little better about having something really personal to share. We all have our favorite artists, the ones who inside our bodies are more than just musicians, they have written songs that have moved us deeply and made us feel a part of a bigger human experience. Built to Spill is one of those groups to me and I am so happy to share these memories with music fans who will actually appreciate the path I took to get to this show and the set list that represents the journey.
Tonight Alex and I will be bringing you two hours of music that relates back to Built To Spill. They are one of those groups who are famous for their covers and that always makes for some great radio. We will be playing many of the songs they have covered during their long career which double as influences as well as the bands in the peer group (some like Dinosaur JR, Pavement, and Guided by Voices that started as influences) and then their followers of which their are many. The most famous being artists like Modest Mouse and Death Cab for Cutie.
WRIR - 7PM to 9PM - 97.3 on your FM dial (RVA only) or stream us live at www.wrir.org