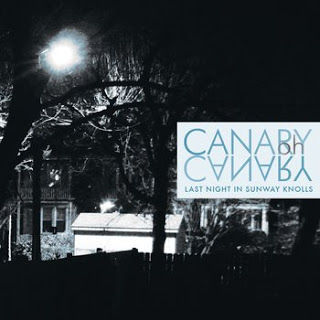 Artist
:
Canary oh Canary
Title
: Last Night in Sunway Knolls
Hometown: Richmond, VA
Label:
Self Released
Street Date
: Out Now
RIYL: Deathrock, Television, early Cure, atmosphere bathed in reverb, memories that may or may not be yours
Righter Magnitude Rating Scale:
Strong leaning towards major
Besides a band I once released on my label, or maybe someone relating back to my radio show, I don't write about local bands, well ever. It isn't to say there isn't a lot of interesting music to be found in my backyard but there hasn't been an artist or band I was so excited about that I felt the need to write about them.
Bands with three people tend to fall on one of two sides of the coin. They either desperately try to make up for having less people by adding pedals, extra amps, and absurd levels of attitude to sound like 100 people OR they fall incredibly short of sounding much like anything and like cheap beer, they don't pack much of a remarkable punch. Canary oh Canary doesn't rest flatly on either side. They spookily stand upright on its edge in perfect sonic balance. How do they do that?
The secret is no one band member over steps their boundaries. Not one of them over plays or drowns the other band mates out. Josie Davis plays bass. Michael Harl plays guitar and sings. Noell Alexander drums. They neatly take on specific rolls showing perfect restraint and leaving the perfect amount of space for the two members to fill.
There are two skills very few bands have, the first of which is playing economically. By this I mean they aren't scared of the space between notes and drum hits. They use these pauses to their advantage. Canary oh Canary's use of space is dramatic and often haunting but because so few musicians are capable of giving each member plenty of room to work in, you don't hear it often enough. This is the first thing that jumped out on me when I heard Canary oh Canary and saw them live. They are masters at decorating space by dabbing it with starry tones, notes and beats.
I also stand in awe of CoC's ability to listen to each other. You can truly tell when band members respect one another's roll within the group. So often musicians do battle in a studio or on stage and the result is a pissing contest that spills out to floor and stays there. Stagnant and flat. Then there are bands like Yo La Tengo who clearly have learned how to communicate with each other through their instruments. They have interesting, often gorgeous conversations on stage, and each member plays an important part of that engaging exchange. This is where Canary Oh Canary also captures my ear. They are perfectly organized and in sync with each other as they play. I want to hear what they have to say and can't wait to hear where each song will go.
Every song on this EP makes a distinct point, moving like chapters in a story that takes place under the cover of darkness. And the exciting part is you never quite know what all this lack of light will bring. Horror could lurk around the corner but so could a magnificent dream or ???
That is the beauty of empty, dark space; anything is possible.
The best band in Richmond right now is
Canary of Canary
. Do yourself a favor and go see them play live tomorrow night, November 5th at Strange Matter in RVA.