Well gang, here it is! We will have more bands and events to announce in the upcoming weeks. I am honored to be a part of this and can't wait to see this fest grow in the years to come.
Our event is set up around the general stretch that the First Fridays Art Walk takes place (about a one mile area). We are hoping however that the Richmond community will take this special weekend to throw their own shindigs, sales, cook special menus, craft special beers. You know know, snazz things up for a few days in the name of great music, art, food, drink, and fashion. Below is our official press release.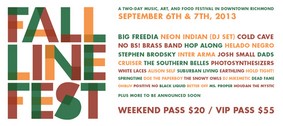 RICHMOND, VIRGINIA
September 6th & 7th, 2013


40+ Bands across Four Venues plus Food and Arts Events
The first annual
FALL LINE FEST
will be taking place in Richmond, Virginia on
September 6th and 7th, 2013
, sponsored by Venture Richmond, Taste The Local, and Need Supply Co. Featuring 40+ bands across four venues on two nights, as well as various events at nationally recognized restaurants and art galleries,
FALL LINE FEST
plans to bring attention to the increasingly impressive cultural offerings of Richmond.
Born out of a shared love of their city, the organizers of FALL LINE FEST first and foremost set out to showcase many of the aspects that make Richmond great. With a focus on music, art, and food, the event will balance national / regional talent alongside the best and brightest hometown favorites, all presented within a walkable portion of the downtown area. A list of confirmed acts performing at FALL LINE FEST is below, with additional musicians to be announced soon.
While not being presented by a large production company, FALL LINE FEST is driven by a volunteer team combining years of experience and know-how to create what will surely be an extraordinary first year for the annual festival.
Weekend passes for FALL LINE FEST will be $20 in advance and are on sale now via the festival website. A limited number of VIP passes are also available now for $55, granting special privileges and perks.


MUSICAL LINE-UP:
Big Freedia
Neon Indian (DJ set)
Cold Cave
No BS! Brass Band
Helado Negro
Hop Along
Inter Arma
Josh Small
Dads
Cruiser
The Southern Belles
Photosynthesizers
Earthling
White Laces
Suburban Living
Alison Self
Ohbliv
DJ Mikematic
Doe the Paperboy
The Snowy Owls
Springtime
Dead Fame
Hold Tight!
Better Off
Black Liquid
Positive No
Ms. Proper
Houdan the Mystic
1708 Gallery
6 Studio / Gallery
ADA Gallery
Candela Books & Gallery
Gallery 5
Ipanema
Pasture
Quirk
Rappahannock
Saison
Strange Matter
The Camel
The Hippodrome