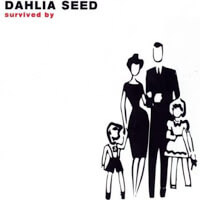 Our second release.
Dahlia Seed
was a five piece American indie rock/post-hardcore band that existed from 1992 until 1996. I was the singer, the second guitar player in our earliest incarnation, and one of the songwriters. May 17th, 2016 marks the 20th anniversary of our album
Survived By
. There are no delusions of grandeur here. I don't think anyone is waiting for this history to be delivered. This is a personal landmark I wanted to scrapbook because I am relatively certain it would not happen otherwise.
I am just one person so this is just my portion of the Dahlia Seed story.
The album was recorded in just 3 days at Studio Red in Philadelphia, PA. We picked this studio because it was affordable, relatively close by, and bands we loved like Helium, Lilys, Versus, and Madder Rose had also recorded there. We recorded very late into the evening and then slept on the studio floor for a few hours each morning. Exhausted and in various stages of hungover or drunk, we recorded and rough mixed 12 songs in a matter of days. This is why my voice sounds so blown out and raw for every song. I had no idea how important rest, hydration, or vocal warm ups were back them. At least there were
cheesesteaks
.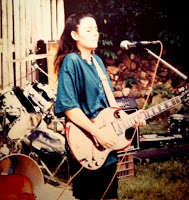 This was the summer of 1995, nearly a year before the recording was actually released.
The songs found on Survived By came together under admittedly ridiculous circumstances that were 100% by my own doing. In1993 I decided my life was in desperate need of change and reflection. I cut off my hair, broke up with my first serious boyfriend, and left New Jersey for Seattle where I basically knew no one. My family, my whole world, was entirely based around the tri-state area so when I was offered a job at C/Z Records, I jumped at the opportunity to start anew. I wanted a life do over but I also wanted to continue playing music with Dahlia Seed. Amazingly the band agreed to a bi-coastal existence.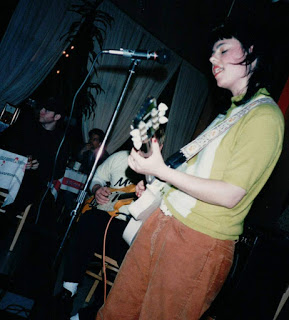 Rex seated behind me at our one and only show in Seattle.
I wrote and then recorded guitar parts on my answering machine using a guitar pick jammed into the record button to keep it going past the usual "Leave a message at the beep" timeframe. I mailed these barely discernable cassettes back east and then the rest of the band morphed my lo-fi musings into finished songs. Sometimes they kept my songs nearly as is but most often they restructured the material so it better fit their playing style. They would record their practices and then send music back to me on cassettes; my reworked songs in addition to their new songs. The final step brought me back to my answering machine. I would write vocals to these live practice tapes by singing along to them while playing through my apartment stereo. If it sounds ludicrous and like a painfully drawn out process, it was. We never recorded demos using a 4 track so this disjointed muddy back and forth was how much of Survived By was written. I will forever have a soft spot for care packages delivered via the U.S. Postal Service because it was how I stayed connected to the most important people in my life during all of the '90s and it usually meant new music awaited my ears.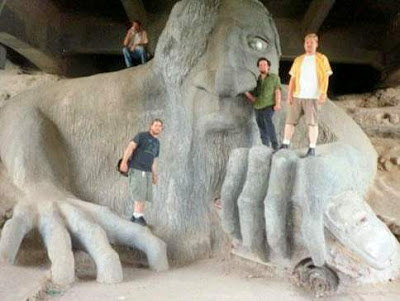 Greg joins us in Seattle, green shirt.
As a relatively new guitar player I had two key influences who lived in Seattle that showed me things like guitar tunings and new to me chords.
Greg Anderson
was my boyfriend and a member of
Engine Kid
. I have him to thank for introducing me to D tuning - amazingly appropriate as he is the king of low end doom currently in
Sunn O)))
. I saw Engine Kid perform regularly, toured with them as a roadie for a bit, and then in 1995 our bands played a small number of shows together on the east coast.
Rex Ritter
from
Jessamine
was another key inspiration. He patiently played guitar along with me (we also recording an unreleased single at
Dub Narcotic
), teaching me the art of not over-playing. From
Rex
I learned that space can be as powerful as filling a song with notes. It took me nearly 3 months of couchsurfing in Seattle before I settled into a permanent home. My small circle of friends who offered up their homes to me also included the band
Silkworm
. I saw them play live as often as possible and it was always an incredible gift. They fit together immaculately. Their performances were a captivating dialog unfolding between the members. I remain inspired by all of these musicians/friends to this day. Among this entire group of people, every one of our homes had musical instruments in it and they were always in reach. Music was everywhere for me in Seattle from 1993 to 1996.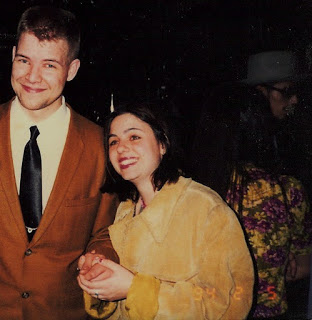 Tim from Silkworm and I with Joel in the back.
Consistent bi-coastal travel would not have been possible if it were not for my father who had accrued a massive amount of frequent flyer miles over the span of his career. I traveled back to the East Coast to practice our new songs and play shows remarkably often. I maintained this back and forth for several years but after the death of my brother Peter and the growing activity of our band, I moved back to New Jersey. I bounced from couch to couch:
Ira & Georgia
's from
Yo La Tengo
as their cat sitter while they toured overseas
,
Lyle
from
Das Damen
's,
Pier Platter
s' record store owner
Bill
who was touring with
Sonic Youth / Stereolab/ Blonde Redhead
,
Dahlia Seed
members parent's house, and
Katie's
from
Spin Art
. I even lived at a hotel for a few days just outside the Holland Tunnel (low point) all the while working at
Pier Platters
in Hoboken part time and playing with Dahlia Seed the rest of the time. It was exciting to return back home with so much happening for our band but it was also a stressful time in my life. I felt lost. I hated being homeless. I was in a volatile relationship. I had no future mapped out that included anything but music. My mild panic anxiety grew into wild anxiety. I began cutting myself, not just on stage with my fingernails, but privately as well. I felt like all control in my life had vanished and pulling at my arms until they bled was my way of making sure I was still human while distracting myself from what felt like walls closing in. Our band's posthumous collection entitled "Please Excuse All the Blood" was a black humor nod to my self inflicted injuries and an ode to Dead from Mayhem's suicide note. Don't worry, I knew I wasn't okay and therapy was eventually sought.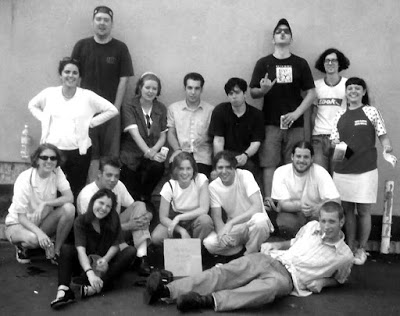 Dahlia Seed meets Garden Variety and friends in Los Angeles 1996.
Dahlia Seed went through a series of members but at the core were Chris Skelly (guitar), Darin Galgano (drums), and Brian Getkin (bass). They all had grown up together in the New York hardcore / thrash scene. I had initially seen a classified ad for a band in 1990 (Danny Derella from Underdog's project) who was looking for a female singer and also happened to be friends with Chris. When I showed up to try out for my first band ever, there was an intervention of sorts. Chris who happened to be there that evening talked me out of playing with them. He told me he was putting together his own band and that I should join them instead. We became fast friends and after a few false starts, Dahlia Seed (named after a girl named Dahlia who talked about splitting herself opening and seeds coming out) was a fully formed band by 1992. The role of our second guitar changed quite a few times during our short existence. I was the first however I can't sing and play guitar to save my life. Jon Procopio of Dunebuggy (now Unbutton) replaced me and he was then followed by Mike O'Keefe. We landed on Kevin McManus for our final year together.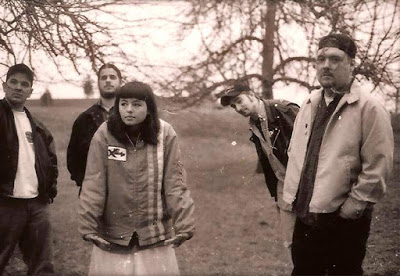 L to R Darin, Brian, me, Mike, Chris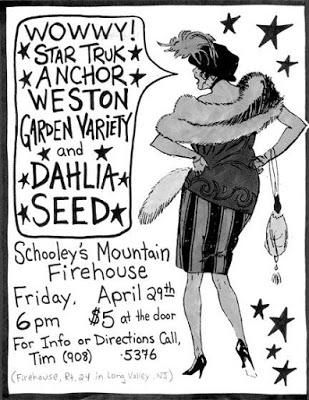 Musically our band had a large spectrum of influences. We were an entire band of passionate music fans and we loved a lot of different kinds of music. Our long van rides were a mix of every possible genre. As songwriters we started as a more melodic indie pop songs but as the years passed, we developed a much heavier sound and lost a chunk of our earliest fans along this journey because of it (also blowing out chances at a record deal with Mammoth Records). We all loved the angsty guitar bands coming out of San Diego (all things Rick Froberg related), New York's Chavez, but we also worshipped the Dischord Records catalog as well as metal, hardcore, shoegaze, and jangle pop. I was especially keen on bands from Chapel Hill (Archers, Superchunk, Polvo, Small) and much of what was coming out of the Northwest from Seaweed, Sunny Day, to the Treepeople, Lync and Unwound. I have never been a strong guitar player (writing songs, yes, executing them on guitar gracefully, not so much) so as much as I would love to say I was copying any of these bands, I simply couldn't. Whatever we sounded like was a happy accident as we mailed tapes back and forth and tried to make sense of the lo-fi recordings made in our living rooms and practice spaces. As our style developed, we alienated ourselves at the same time. We grew too heavy to be considered an indie-pop band (like Velocity Girl or Tsunami) but we were too melodic to be embraced by the hardcore fans who were moving towards something closer to metal and farther from what bands like Quicksand were also exploring. Just a few years later melodic, heavy music grew into a beloved genre but by that point Dahlia Seed was over. Our band never really found a niche for ourselves so instead earning herds of fans the way bands like At The Drive-In did, we became a cult favorite to a dedicated few. The saving grace to our lack of fitting in anywhere was playing often with regional bands like Garden Variety and Weston who became like second extended members of our family. I am still so grateful for those friendships and bonds.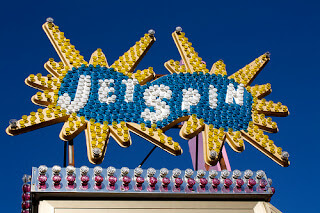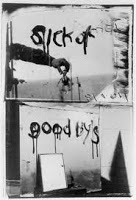 I have written regularly in notebooks since grade school so I have amassed a large amount of material to shape into song lyrics (maybe 30 books total to this day). The lyrics to all of the songs on
Survived By
were deeply personal. They reflect a chemically imbalanced person living far from home trying to make sense of an adult world filled with loss, unhealthy relationships, abuse, misdirection, and depression. I had no idea how to cope with any of it yet. I think the song "Jet Spin" sums it up best for me. It was an amusement park ride a few blocks from my apartment in Seattle at the base of the Space Needle. Emotionally I felt like I was stuck on that ride every day so to take ownership of my manic swings, I turned it into a song. The lyrics to "Jet Spin" were also inspired by a Robert Frank photo ("sick of goodbyes") who grieving after the death of his daughter, went on a similar healing journey.
"LET ME OFF NOW PLEASE!"
I grew up obsessed with singing (mostly to the
Annie
soundtrack and
Beatles
records) but when it came time to try to sing in a band post high school, I had no idea how do actually do it. I sang along to records I loved for practice (
Babes in Toyland, Soulside, Jawbox, Lunachicks, The Fluid, and Mudhoney
) but
Bjork
was and still is the one vocalist I am most in awe of. I love having her voice as a reminder of what is possible. I still can't believe the emotion she communicates through her attack, breaths, and melody choices. It was from dissecting the songs found in my record collection that I pieced together how a song is structured and applied these ideas to the songs we were writing. I had no background in music theory. I never took lessons. I still have no idea how to write a single note of music but from listening carefully to bands that interested me, I formed my own interpretation of how I wanted to express myself in song form. Trial and error over many years turned helped me eventually develop my own style.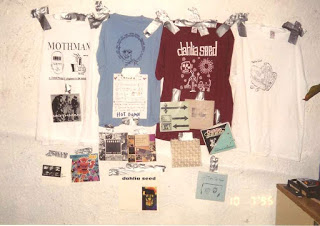 Troubleman Unlimited released Survived By in May 17th, 1996. That summer we hit the road to complete our first, last, and only full U.S. tour. It went as well as you might imagine when a relatively unknown band books the shows though friends of friends and print ads in a few underground fanzines. Anyone in a small, struggling band will tell you the same thing. Your patience will be tested to biblical proportions. No one or nothing could possibly prepare you for the rollercoaster ride that is touring. There is intense sleep deprivation. Money is usually lost, not made. Without an income and long hours on the road, your meals are often whatever you find in racks at a gas station. Down time is filled with things that aren't healthy for you (drugs, drinking, late nights with people you wouldn't normally spend time with, and junk food). Your tour van AKA your mobile home is filthy, cramped, and breaks down often. Showering becomes a distant memory. The people who were kind enough to offer you their floor to sleep on often had homes so dirty you were scared to put your sleeping bag down anywhere. For me and the lack of a proper PA on most nights took a toll on my body.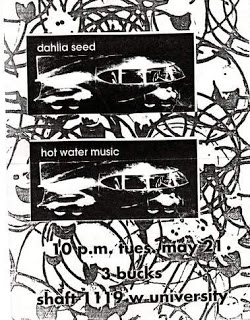 My throat began to bleed from yelling night after night to be heard. We had to cancel a series of shows just to allow my voice time to recover only for me to destroy it again the next performance. It was an ugly cycle. My instrument was no longer operational and it caused a huge strain on everyone.
Lastly close quarters for months at a time can make the closest of friends want to kill each other and
Dahlia Seed did not survive long after this tour. In fairness the tour also had some incredible high points but for every high point: splashing in the Pacific Ocean with some of the Ebullition crew,
exploring all corners of America, meeting peers only previously read about in zines or listened to on record, and the private world that is created among members all placed in the tour bubble, BUT
there were just as many lows: being paid in spoiled oranges after the opening band played for two hours and didn't leave any time for anyone else to play, grueling Texas heat that softened the tires on the van,
absurdly long drives between shows that no band should ever safely attempt, showing up to play only to discover the kid who booked your show a few months earlier totally spaced. Up. Down. Up. Down.
If you ever want to know what it feels like to be a manic person, I highly suggest a few months on the road as a barely known band.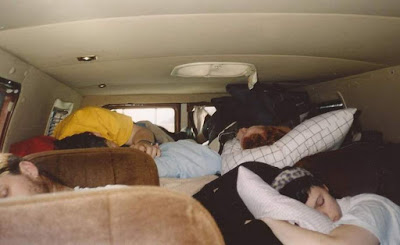 We played our final show at
Maxwell's
in Hoboken, N.J. on August 15th,1996. We have not played together as
Dahlia Seed
or performed any of those songs together ever since. Survived By is long out of print in physical format but it lives on via this Bandcamp page.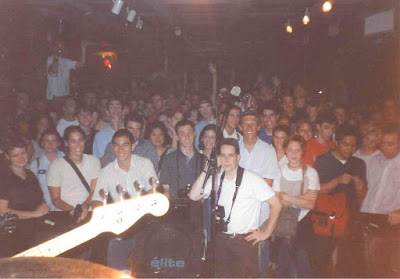 The sold out crowd at our final show at Maxwell's, so many of whom I still call friends.
I don't think when I joined Dahlia Seed I could have guessed what playing in a serious band would bring me. I eventually found self confidence (or at least accepting not everyone will love you and you better get used to it). I found my voice and learned the value of collaboration / surrender of ego. I had the opportunity to create art that I believed in that also reflected our moral compass. The unfortunate flip to this was the more I stood up for myself and my values, the more I was called difficult, a bitch, a diva, and so many worse things. I was frowned upon for not being a riot grrrl by many of my female peers but also not taken seriously by many of my male peers because of the ridiculous attitude that women didn't belong in hardcore. The reality was that because I was a woman in a very claustrophobic male-centric scene, I was considered less capable and less talented than my male counterparts. When you feel chronically disrespected, sexualized when when men doing the same exact things were not, endlessly on the defense, hungry for respect, and paranoid because you are waiting for the next bad thing to happen to you or the band, you eventually crack. I cracked.
Maybe surprisingly, I still have no regrets. None.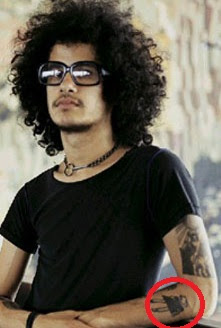 Omar from At The Drive In with a Survived By inspired tattoo.
The band was my transition from child to adult. It taught me that failure is how we grow. I met and played alongside so many inspiring people who remain friends of mine to this day. Dahlia Seed continues to open doors for me which almost seems impossible two decades later. Most of all I feel very fortunate to have band members who treated me as an equal creative partner. We worked so easily together when it came to writing music that every practice was equal parts laughter to music. As harsh as outsiders could be about our music, my band members protected me like a family, better than my own family. This kind of support enabled me to to create art in a comfortable environment with others and is the foundation for all the music I have ever made since. There is no personal or artistic growth without a safe, respectful, and loving environment to experiment in, I was fortunate to have that when I really needed it the most. Without Dahlia Seed, there would be no me in 2016. When I celebrate Survived By 20 years later, I am also celebrating the bridge that connects the past to my proud present tense.