Hi ya.
Hopefully this will be the first in a series of free, little mixes put together by various members of our band
Positive No
. I did this one and it is a continuous mix of songs in one mega MP3. It is by no means a playlist of our band's or my personal influences. The theme here is summer and my take on what that means. If you are familiar with the radio show I did for about 4 years, you know I love a good theme.
I tried to pick a mix of all different kinds of music from a bunch of different decades. Some will be familiar and hopefully a few will be unfamiliar but pleasant surprises. Download it at the link below. (click "enjoy")
Happy summer friends.
Enjoy
,
Tracy
PS: Our proper band website is
here
.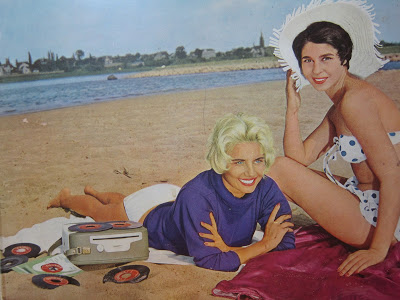 Alice Cooper - School's Out
Diplo - Summer's Gonna Hurt You 2012 Remix
The Jesus & Mary Chain - Surfin' USA
Snapper - Hot Sun
Chris Stamey - The Summer Sun
Confetti - Warm
Superchunk - Learned to Surf
GBV - Hot Freaks
CocoRosie - Lemonade
Tera Melos - Sunburn
Ice Cream for Crow - Captain Beefheart
Fugazi - Burning
Bill Cosby - Sunny (Yes, that Bill Cosby)
Still Corners - Endless Summer
Jacco Gardner - Summer's Game
Pink Floyd - Summer '68
Throbbing Gristle - Hot on the Heels of Love
For some reason this song didn't want to play nice so it didn't make it into my mix. Here is a bonus summer treat.