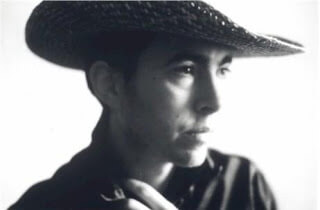 Whatever the opposite of the cure for what ails you might be is perhaps the best way I can describe the much of music written and performed by Bill Callahan. It isn't that his music is sickening but he is the master of writing about varying shades of sickness and approaching it in a way that makes me feel like a stranger standing too close to me on a not very crowded train. He is direct and doesn't dance around uncomfortable subjects that for me is a huge part of the appeal of his approach to art.
Did he really just say that? Is really talking about girlfriends wanting to be hit (in fairness although it comes from his mouth these lyrical stories do not all belong to him in the honest to God first person sense) or someone dressing sexy at his funeral? Did he cleverly just describe the varying degrees of fame by placing a creative legend like Eno against a footnote to pop music Gary Numan? Is he a Mother of the world? Did he really make a spread eagle dolly of the women things (frilly things) you have left behind? A heck yes to all of the above.
I think of Callahan's music in the same terms of a Lars Von Trier film. Where other artists would steer the viewer's eyes or ears away from point blank brutality and maybe leave a few things to the imagination, neither of these men pull away from the uneasy situations. They place you in the unforgiving position of the front row and hold you in that spot until the story plays out. By the end you might have a little blood on your shirt but you also didn't miss a thing. You had one eye to the microscope lens and saw it, heard it ALL.
Not for the weak at heart, tonight from 7PM to 9PM I will be playing the music of Smog/ Bill Callahan as well as looking at the artists who have followed along similar musical paths before and after as well as a handful of peers and new artists who offer as little cheer or candy coating. You can listen to two hours of no mercy on your dial at 97.3 FM in RVA or stream it live at www.wrir.org.
PS : Few people know about the Bill before being a musician took over - here is a
great read
about the fanzine maker / writer Bill.