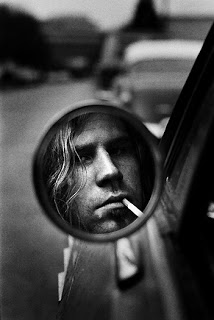 It is difficult to fathom what it would be like to own a voice that when it sings, sounds as if the weight of the world is being channeled through it. When I imagine what sorrow, lament, and regret sounds like (with the addition of whiskey and cigarettes) there are a few voices that come to mind. Johnny Cash and Leadbelly would be at the top of that list but Mark Lanegan would be right up there too.
What is strange about an artist owning a voice so distinctly mournful is that hearing him doesn't make me sad. It comforts me in the way that it reminds me that in life there are highs and lows, and the valleys are just a part of living. Mark's voice naturally helps carry the burden of tough times and there is something marvelously reassuring and uplifting about having someone prove that you aren't alone in that temporary pain. I believe people misinterpret the kind of voice Mark Lanegan has for being strictly melancholy but tonight I am out to prove that there is an unmistakable joy and beauty buried in the throats of those who sing the Blues.
From 7PM to 9PM tonight I will spend two hours exploring the multitude of projects associated with Mark starting with the Screaming Trees, his solo catalog, and then the seemingly endless numbers of collaborations that perhaps he has become best known for. (Twilight Singers, Gutter Twins, Breeders, Mad Season, QOTSA, Maggie Bjorklund, UNKLE, Isobel Campbell, Soulsavers, and so on)
WWW.WRIR.ORG to stream live or 97.3lp FM for locals.