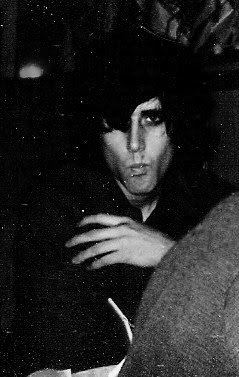 If I had a nickle for every time I read or heard an interview with a musician that talks about the importance of radio helping to shape and inspire them as creative beings, I would be a wildly rich woman. Radio (especially independent music radio programming for me personally), offers two incredible things to the listener, free music that we may or not be familiar with and a DJ (a real live human!) who schools us on the music they have selected. These on air volunteers become our tastemakers, our music professors, and are our gateway to what is going on in our community (and the world!)
Here is a quote from Luke Jenner of the Rapture about the importance of expanding one's music knowledge and below it is a snippet from an article where Luke mentions how San Diego radio (where he and Vito grew up), was a part of The Rapture's learning curve.
"The mistake most bands make is not going back far enough. They'll be influenced by something, but stop there. I really love Otis Redding and Al Green, but for me it's really important to go back to figure out what they were into. Otherwise, you come up with something shallow that doesn't sound very unique."
"Initially inspired by regional 91X alternative rock discjockey Mike Hollerin, who'd lived in England, then garage-soul mecca Detroit, before hitting sunny Southern California, the duo began listening to '80s Brit-pop obscurities Echo & the Bunnymen, New Order, and Jesus & Mary Chain"
And here is a quote taken from a recent Pitchfork interview with the band and the line about radio comes from Gabriel Andruzzi who plays many rolls in the band, keyboard, sax, bass, percussion, and vocals.
This is why I thought The Rapture would be a perfect candidate for our very special fund drive Cause & Effect. Singer / guitar player Luke Jenner has kindly hand selected a two hour playlist for this evening's show to reflect his musical journey from music loving kid into an adult musician revered across continents for genre bending not just from record to record but from song to song. Luke may be a talented artist but he is also a rabid music fan, interested in music of all kinds, from all decades, as you will hear tonight from 7PM to 9PM.
My introduction to Luke and Vito happened in the Fall of 1999. Within The Rapture timeline this is when the band had moved from San Francisco, then to Seattle briefly, landing them in NYC where I was living at the time. Their debut full length Mirror had been released earlier that year and they were in the process of searching for creative inspiration while writing their one and only Sub Pop Records release, Out of the Races and Onto the Tracks. Luke was seeing a friend of my first husband and I and in turn we all became friendly. Luke and Vito (Matt had yet to join them at this point in time) would come over to our apartment quite a bit. We would occasionally feed them, play them records from our collection, and basically geek out about music. Withing our indie music community bands like Radio 4 were growing in popularity and in general the post hardcore community who were previously dabbling in emo and hardcore (screamo too) were growing a little older (myself included) and seemingly all discovering post punk at the same time. (Gang of Four, Wire, P.I.L., James Chance, ETC) The Rapture landed smack dab in the middle of this scene and quickly rose to become one of the best known bands playing a style of music heavily rooted in post punk.
As I mentioned, The Rapture are passionate music fans of all kinds so it really isn't surprising that the band since the late '90s has continued to explore new styles of music from house to Gospel. They have gone on to produce an eclectic body of work and continue to branch out in new directions. Like any band they have had their share of peaks and valleys and while we will go into some of that this evening, the show's focus this evening will be playing Luke's set list from start to finish and us as your DJ's at the helm helping to to explain how these songs fit into the group's timeline of influence. Metal, classic Rock, indie Rock, Brit-Pop, post punk, Dance, Country, and Gospel are all a part of tonight's show and Luke has also selected his four favorite Rapture songs to round it all out.
Tune in to 97.3 on your dial if you live in Richmond, VA or stream us live at WRIR.ORG. from 7PM to 9PM tonight. If you enjoy our show, our radio station, the gift that is community radio, please consider making a donation during our show. We will have a bounty of special prizes available to those who donate and best of all, you can help keep independent radio's heart beating. We may be the volunteers who bring WRIR to your ears but it is your donations that make it all possible.
Thank you Luke Jenner for your time, support, and a chance to revisit our friendship in such an illuminating way. Music nerds unite!
To put this evening's show on your Facebook calendar, go to our event page here.
To follow Cause & Effect on Facebook, go
here
.
The two pictures of Luke were taken at my birthday party in 1999 at the Cowgirl Hall of Fame in NYC.