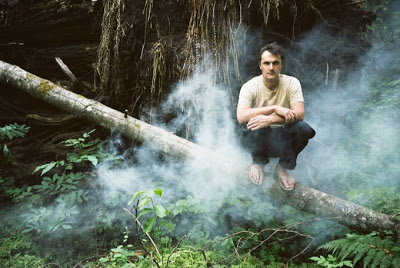 A recent news story on biomimicry is lingering with me as I put the finishing touches on my notes for this week's Cause & Effect. Phil Elverum of Mount Eerie / The Microphones (and who knows how many other side projects) has been kind enough to create a two hour playlist following the theme of our show by choosing songs that tell the story of his personal, musical influences. (THANK YOU PHIL!)
To explain how biomimicry ties in I should try to define it first. Nature is imaginative by necessity and design because in order to stay alive, it HAS to learn to work with the elements, its surroundings, and its own chemistry. It evolves when it has to, again, all in the name of survival. The failures over time turn into fossils and what survives still surrounds us in the present tense. These survivors are the species that have figured out the best way to push forward and keep thriving. Biomimicry is all about using nature as a model for humanity to operate. As the Biomimicry Institute states " If we want to consciously emulate nature's genius, we need to look at nature differently. In biomimicry, we look at nature as a model, measure, and mentor."
Some of the best practices found in nature are mirrored in the music of Phil Elverum. For those familiar with Phil's epic creative outpouring, the parallels are obvious. For those unfamiliar with his work I will try my best to explain it.
Phil Elverum as an artist is ever evolving and self renewing while maintaining a constant bond to his surroundings with a heavy tribute to Mother Nature. As a first example, one of his albums and now his current band name Mount Eerie is named after a mountain in his home state of Washington. His songs (particularly focusing on The Microphones and Mount Eerie output) and his photography often refer to his natural surroundings, reflect upon the images of his landscape, and incorporates the sounds of nature within the recordings themselves. In fact, there is barely a division between Phil's art and nature.
To further build upon this train of thought, Elverum also writes his songs in a less traditional structured style. They tend to flow organically and move in surprising directions. His music emanates a temperamental atmosphere that unravels in unpredictable ways. Occasionally he may use a gust a wind where other musicians would place a guitar solo. or bridge. As I write this I am basking in the calm last light of the afternoon but just moments ago there was monstrous wind and pounding rain. Phil Elverum's songwriting is equally as moody and confounding. It is the gentle pitted against the wild. It is a beast suddenly tamed. It is awe inspiring and infinitely interesting.
It should also be mentioned that Phil Elverum is a master collaborator. Using the creative talent pool found within his region (enter many of the K Records local artists, touring musicians who stop to visit him, and friends who make music within his sound spectrum), much of Phil's recording sessions include a host of special guests. Imagine a spider building a web and making the most its ecosystem based within its direct environment. If someone was wondering how they could make the most of what grows naturally around them, I suspect Phil is an expert in this approach to living, which for many artists means making making music. If you spend time enough time with Phil Elverum's diverse and mammoth creative catalog, you too will believe making music is a second nature to him. His songs reflect life, death, and all the beauty and sadness that comes with it.
Biomimicy is about echoing nature in they way we as humans operate and while I am neither an expert in this field of thought or Phil's music, I am certain that the music of Mount Eerie and The Microphones pays deep tribute his immediate surroundings by amplifying it from a Jurassic peak.
Tune into WRIR from 7PM to 9PM tonight (Eastern Standard Time) to hear two hours of music hand picked by Phil Elverum, the artist himself! For Richmond locals we can be found at 97.3 fm on your dial and for all others around the world you can stream us live
here.
I will podcast the show and share the link to it
here
.
And more more thank you to Phil for creating some darn fine music, picking one of my favorite Cause & Effect sets ever, and for supplying thoughtful notes that accompany each selection. Those will also be posted here on my blog and the radio station site.
Follow us on Facebook here
.