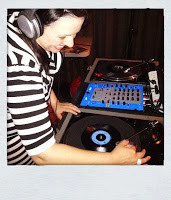 Here is a list of songs I played at Balliceaux last night : post punk, new wave, angular indie rock, power pop, blah blah blah. (And a guilty pleasure or two). I only play vinyl and mostly singles.
No Richmond is a monthly post punk (and the family tree of genres) dance party that takes place in Richmond, VA. There is rotating cast of DJs that step in each time and the first half of the night usually highlights lesser known music. The second half of the night usually contains the more obvious crowd pleasing hits. I have learned the hard way that people after a few drinks seem to really like ONLY hearing songs they know and can sing along to.
Can't Keep Away - Sector 27
Riding the Times - Thirst
Never Say Never

- Romeo Void
Strobe Light - The B-52's


Calculator - The Rogers Sisters


Ain't you - Kleenex
Pogo Pogo - Plastic Bertrand
Fashion- David Bowie
Kick In The Eye - Bauhaus
Shack Up

- A Certain Ratio


House Of Jealous Lovers - The Rapture


Shoot You Down - APB
Jukebox - The Flirts
Its Not Me Talking - A Flock of Seagulls
Do You Dream In Colour

- Bill Nelson
I Travel - Simple Minds
Going Left Right - Department S
Computer Games - Mi-Sex
(Get A) Grip (On Yourself) - The Stranglers
Should I Stay or Should I Go - The Clash


Shake Appeal - Iggy And The Stooges
Wolf Like Me - TV On The Radio
Pretty In Pink - Psychedelic Furs
Hanging On The Telephone - The Nerves
Here are few of the songs to check out for an at home or in your work cubical private dance party.