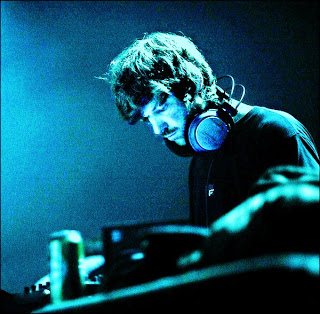 Sometimes it's hard to believe how fortunate I am from an electronic music history perspective. I spent over 11 years working for a music distributor that brought labels like Warp, Astralwerks, and Ninja Tune to America. In 1996 my post-hardcore band had just broken up and I began year one (starting as a temp) at Caroline Distribution. Electronic music had been in place for years but it had yet to really cross over into mainstream America. Having zero knowledge of the genre beyond the Bjork records I owned at the time, I was secretly relieved when Astralwerks (with whom we shared our offices with) passed around an electronic music cheat sheet that basically spelled out all of the differed kinds of electronic music out there so when we began selling more and more of it, we as sales reps would sound like we knew what we were talking about.
In no time I understood the difference between drum + bass, jungle, big beat...and with each new year, our roster of electronic music labels we distributed grew. When it was suggested we do Aphex Twin for Cause & Effect I initially cringed because my gut still tells me I don't know anything about electronic music but as I began working on the show it all started coming back to me. I sometimes don't give myself credit and was pleasantly reminded that those 11 years at Caroline practically game me a masters degree in underground music, especially the genre now dubbed IDM, Intelligent Dance Music. If there was one style of electronic music I am most familiar with, this is it.
Tonight from 7PM to 9PM on
WRIR
I will be sharing highlights from my electronic music collection that relate back to the roots of where UK solo artist Aphex Twin AKA Richard David James came from, the artists that he has worked closely with, and then the musicians inspired by his music catalog.
Tonight's set includes music by: The Future Sound Of London, Autechre, Matmos, The Bad Plus, Thobbing Gristle, NIN, Radiohead, Ween, John Cage, Philip Glass,
Iannis Xenakis, and more.