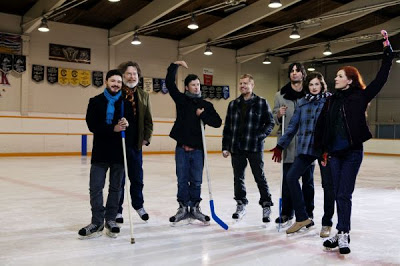 Somewhere around 1992 I was living in the upper portion of a retired Jersey City funeral home. It was an unusually large apartment so when a friend at Revolver Distribution recommended that I check out a Vancouver touring band called Superconductor that contained 8 members, it wasn't completely surprising that few other locals could offer a floor large enough for them all to sleep on post show. My consistently shameful memory makes this story ultimately hazy but the moral of this story is the band that featured at least 2 bass players, 5 guitarists , and a drummer, many of whom went on to be life long friends / good acquaintances: Keith from Scratch Records, Sean from Nominal, Joe Preston from Thrones / Melvins, and Carl Newman who went on to join Zumpano, and The New Pornographers.)
During the mid '90s I briefly lived in Seattle which isn't exactly neighbors with Vancouver but it was close enough to warrant multiple visits that allowed me to see Zumpano play several times (they were on Sub Pop and in turn came to Seattle as well) and witness first hand the musical stepping stones of an incredibly gifted master pop song writer.
The last piece of this puzzle lands in the early 2000s where an old friend (Phil) from my Dahlia Seed days became the semi permanent touring sound guy for The New Pornographers and so my accidental connection to the music of Carl Newman continued. I have been fortunate to see NPs play some 5 or 6 times as well as having spent some time with them in DC. Besides the obvious and ridiculously brilliant talent oozing from the entire band, my memory and favorite aspect of the band is the people themselves. I heart The New Pornographers from the inside out. They make me laugh until my sides hurt and I am thrilled to have a chance to spend two hours taking a magnifying glass to their trademark sound.
They however all dropped the ball in working with me to create tonight's set so as a thank you to their non-help I will salute them with two hours of rap metal. Hmph!
Okay, okay, I didn't really need their help any way. Tonight from 7pm to 9pm on
WRIR
we will be playing some the finest fun pop songs on earth, from The Monkees to ELO not to mention the endless amounts of off-shoot bands each member is or has been a part of.