Entry below orginally posted by:Yewknee.com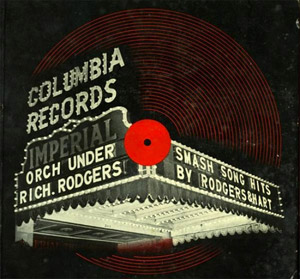 The other day
Kate
posted
about the "Worlds First Album Cover" from
Alex Steinweiss
in 1939. I took one look at it and found it to be so appealing and incredibly well done that I immediately doubted that it was the
first
album cover. I mean, loads of vinyl was produced before 1939 so it stood to reason that there had to be album covers prior to that, no? And, indeed, there were "covers" but not in the style or sensibility that Steinweiss brought forth. My assumption of the cover being too good to be true was flat out wrong - my apologies to Kate for this
mistake
and my thanks to her for the heads up on him.. he is well worth diving a bit deeper into.
Despite just being a 23 years old he managed to convince his superiors at Columbia Records to take an album and give it a unique look; not just a prepackaged sleeve with the labels logo on it. Sales increased by 800% and it's safe to say that no one looked back as we still embrace his legacy today; even with mp3 albums. I highly suggest taking some time to read through his
Wikipedia page
, browse his
phenomenal work
and maybe even earmarking a new
coffee table book
of his works for future inspiration.
Whoa!!! That is some classy album art. If the world only knew that an onslaught of miserable album artwork would slowly but surely creep into the market.