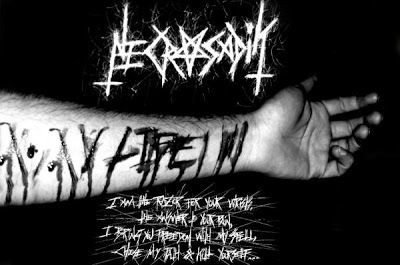 All I can think of is if Lux from the Cramps came back from the dead as a zombie cutter (wait do zombies bleed?) and gave a whirl at minimal black metal in Mexico, this would be the demo. It borders on cool but at the same time I find myself laughing out loud which maybe isn't exactly what a dude influenced by "the sorrowful streams of emptiness" is going for.


And check out his sweet catalog:
RAZORS:My first album DESTROYING YOUR LIFE!!! is OUT NOW by ZIEKTE-NL (NETHERLANDS).
ROPES:My thrid album THE PAIN BETWEEN BIRTH & DEATH will be release by UGLY CUNT RECORDS (POLAND) this next APRIL
10.PILLS:My second album THE PORTRAIT OF MY SORROW will be release by ZIEKTE-NL (NETHERLANDS) in a few weeks.
BULLETS:The split with TERRA AUSTRALIS (AUSTRALIA) will be release by THE BLACK 666 PRODUCTIONS (KOREA) in two months.
And holy crap : a video. The man appears to hate birds as much as I do. At least I think that is a bird....
Pain Is Dying