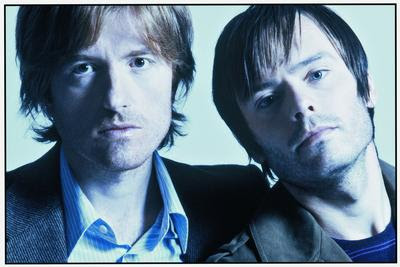 Some bands are a seasonal thing for me and I find my ears crave Air the most when snowy weather hits. I also find myself getting sentimental about the group because I had the honor of working with a great number of their earlier records when I worked for the distribution side of their label Astralwerks.
I fell in love with them instantly because they truly delivered this perfect complete package of dreamy space-age modern pop songs, their art work was impeccable, and let's face it, they aren't exactly uneasy on the eyes. (Plus touring outfits? Yes!)
I also have a comical memory of seeing them play in DC at the 9:30 club and wondering if the whole crowd hadn't taken some sort of love drug. It was a very coupled audience and everyone was getting frisky around me during the show. It was like a PG-13 audience orgy, so weird.
Anyhow, so for those of you not living in Richmond, we have been buried in snow and there are rumors of more to come this weekend. This icey magical landscape offered the perfect backdrop as I pulled songs for this week's Cause & Effect and revisited the Air catalog. Tonight from 7PM to 9PM we will be basking in out of this world synth sounds (occasionally new age sounding in fairness) as well as space-age goodness by Tomita, Jean Michel Jarre, Pink Floyd, Neu, Stereolab, Mellow, Brian Auger, Boards of Canada, and a whole lot of other fantastic artists!
If the snow and cold weather is stressing you out, tonight's show will offer you the ultimate relaxing experience. Sit back and enjoyed the ride.
You can listen to us at 97.3 FM on the dial or at www.wrir.org.