Don't forget - part two of our Sunn O))) show takes place TONIGHT. The set will include music by : Venom, Carcass, Entombed, Thorr's Hammer, Melvins, Swans, Miles Davis, and more! Details of exact time and where / how to tune is is listed below.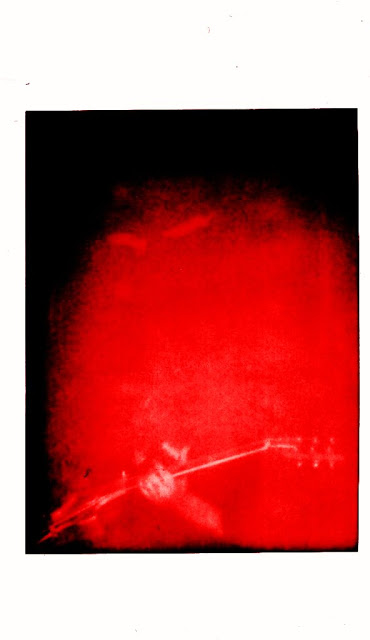 This picture cracks me up - I took it with my Polaroid Captiva at a Sunn O))) show in 2005 and the smoke machine that I was running that night pushed out so much fog that it made it nearly impossible to view the band, even from just a foot away. This photo pretty much sums up the soupy mess that was the air that night.
A quick synopsis for the lazy reader:
Cause & Effect presents 6 hours of music by Sunn O))) and others residing in their sonic solar system. Starting June 3rd

on WRIR you can tune in your transistor in Richmond, VA to 97.3 FM or stream the show live anywhere else on the planet via

www.wrir.org. The radio program Cause & Effect takes place every Thursday from 7PM to 9PM East Coast time and is hosted by Lightning's Girl and Alex. We trace one artist's musical roots each week and for the first time in the show's history they will present a two part series, continuing with 2 more hours of Sunn O)))'s musical family tree on June 11th

at the same time. The final 2 hours of music will be made available as a podcast only for your downloading pleasure and will posted on the Cause & Effect Facebook page.
For those of you who like to read and want to know more....
First things first. The O is silent. It is pronounced Sun and the rest of the band logo can be related to the spectacular line of amplifiers that share the
same name
. I have also loved the play on the meaning of the word in relation the Seattle band
Earth
that Sunn O))) (and so many of us drone fans) worship. I love a good planetary reference and a loud amp so its a win win. (And for bonus points you can read up on the
Sunno
, the leader of the Franks just for the heck of it.)
I lost count of the number of hours I have dedicated to this epic show somewhere around the 11th or 12th hour. I don't know, a lot of time and effort has been put into this show, not only by me, but also by Greg Anderson and Stephen O'Malley, the two main members of Sunn O))). They have been incredibly patient and thorough as I began working on this set and asking them to revisit their early years of discovering music and pulling out songs from their past that they loved and were inspired by. The two of them have supplied me with most of the artists for my radio sets with just a few additions based upon my memories of our friendship that began somewhere in the early to mid '90s. The final result is a first for Cause & Effect, a two part show with an additional third set as a podcast only. That means we will be bringing you a total of 6 hours of music starting with their high school years of hardcore, punk, and death metal and then splintering out into some legendary regional bands. From there we move into so many other genres, math rock, jazz, experimental stuff...all while following bits from the Sunn O))) discography that marks time like a musical growth chart.
I moved to Seattle in the Winter of 1994 and literally within just a few hours of settling into my new strange surroundings (I came from NJ) I was welcomed by a group of soon to be co-workers from C/Z Records. This lovely group of people also included some of the bands on the label which at the time included Greg Anderson's band Engine Kid. We met (greg and I, became fast friends, and just a few years later he introduced to me Stephen. I could have never predicted that in just a few years, our bands would play some shows together (Engine Kid) or that we would all move to different cities and remain friendly...not only because two of us worked for the same indie music distributor but also because of our love of music. We have continued to cross paths in both the work and social world ever since. I think about when I first met Greg and Stephen, how impressed I was with their music then as well as Greg's first label Battery Records (pre Southern Lord) plus I absolutely worshiped Steve's magazine Descent. Their achievements have escalated outward ever since and I continue to be awed as to what these gentlemen will do next. Not just as musicians but as individuals who are multidimensional artists.
You never the know when you make a new friends how or if they will affect your life in the long term and while I can speak poetically upon the music of Sunn O))) for hours, more directly and importantly, Greg taught me how to tune my guitar down to D and I turned him onto Eyehategod. Stephen told me today that my wall of records in my apartment in Seattle was the first time he had ever seen something like that and his zine was my introduction to an endless stream of bands that have gone on to be some of my favorites that now live within an even larger wall of records.
SO)))) needless to say, putting together this show has been a like working on a very personal scrapbook of the past 15 years of my life as well as theirs. Hopefully the time, effort, and thoughtfulness of this exercise will shine through and I hope you enjoy this most comprehensive history of Sunn O))).
Addendum: Track listing for the first show is
here
.