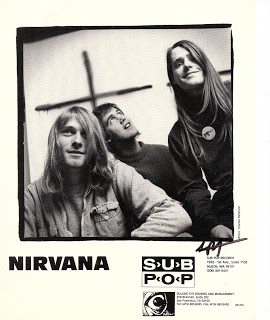 The work of
Charles Peterson
taught me at an early age that capturing a band either posed or live was a true art form and if done right can express the true energy, spirit, and personality of an artist or group. I never gave much thought to band photography until I was introduced to his work in 1990. Fifteen years later in 2005 I was fortunate enough to see an entire exhibit ("Touch Me I'm Sick") dedicated to his talent at the Chrysler Museum of Art in Norfolk, VA. Charles was also there for the opening night and I had a chance to show him the pile of his band press photos I had collected during the '90s.
He was signing books that evening so I am especially glad I had the opportunity to shake his hand and thank him for opening my eyes to a world of music I had originally been just using my ears to enjoy. He seemed a little confused as to how a girl who grew up NJ had all these pictures by him but I explained I had friends who worked at Sub Pop and that I eventually moved to the Emerald City so it wasn't too bizarre of a tale. Charles mentioned he didn't have a copy of a few of them (the promo photo card version) one of them being of Mark Lanegan (image below), singer from the Screaming Trees who at the time had released his first solo record for Sub Pop.
Found within this post are two promo pics (Nirvana w/ the original line up + Mark Lanegan) from my personal collection; now signed by CP.