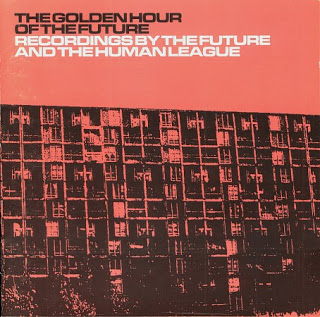 Artist: The Future / Human League
Hometown: UK
Label: Black Melody
Street Date: Out Now
RILY: The roots of electronic, new wave, and experimental industrial music. Kraftwerk, mangled disco
The Hits: Blank Clocks
Richter Magnitude Rating Scale: Light to me, strong historically speaking.
The Future now exists in the present tense (in reissue form) and it comes armed with Korg synths and ready to dance. At least that seems to be what The Future meant to some forward thinking electronic instrument loving fellas from Sheffield England in the year 1977.
Before the band Human League entered the picture, two of the members Martyn Ware and Ian Craig were busy trying to master a brand new to the market synthesizer by Korg. These gentlemen weren't interested in being another punk band but were however inspired by the DIY ethics of the scene and applying it to disco...another tired genre they wanted no part of. Hungry to further exploit new technology the group incorporated found / sampled sounds to their music taking them even further way from music trends at the time. In fact A&R people who were given the band's demo suspect that the songs were a joke mocking the industry which in turn led the music executives to call security and have them thrown out of the building.
Shortly there after their third member Adi Newton left the group to form Clock DVA and the remaining members went on to rename The Future, Human League. The band that eventually went on to write 80's classics (if you care about 80's new wave music that is) like "Don't You Want Me" and "(Keep Feeling) Fascination".
While I understand the important role this band plays in breaking new grounds for electronic pop music, the music leaves me wholly unmoved and disinterested. New age industrial doesn't butter my biscuits, it leaves em' cold.