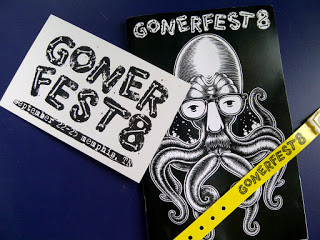 I'm baacccckkkk! After taking a few weeks off to heal from my accident, I will be on air tonight recapping Gonerfest 8 that took place in Memphis last week/weekend.
My interest in Goner Records started early on. I am a big fan of garage rock - new and old - and this label has always been among one of the most solid who don't just release this kind of music but certainly are best known for it. They began all the way back in 1993 releasing music by such luminaries as Guitar Wolf and The Oblivians. For those who don't know the label, it was founded by Eric Friedl of the Oblivians and over the years have released some damn fine music by artists like Jay Reatard (and all his various projects), King Khan, Eddy Current, Ty Segall...and that list goes on and on.
However Goner isn't just a record label, in 2004 Eric and Zac from The Final Solutions opened up a record store in Memphis, TN and they are still going strong. Not just as a flagship to the label but for all kinds of local music, garage, blues, indie rock, and so on.
Then in 2005 came Gonerfest and as you might have guessed by the name it is a music festival put on by the label / store. This annual event features bands on their label as well as bands from all over the world they dig, as well as showcasing some of the best music from the local scene as well.
So there you have it. A label. A store. A fest. A music nerd's dream come true and all quality. I attended my first Gonerfest this year and saw over 30 bands play from last Thursday to Sunday. I took in a lot of great music, bought a ton of cool records, and met some incredibly friendly people from all over the world. (So many Australians!) This seemed like the perfect time to finally celebrate all that is Goner related so tonight from 7PM to 9PM on Cause & Effect, I will be playing about 75% of the bands that played the fest and in order of their appearance at the fest. How is that for some nerdy shit? I will also spin some classic Goner artists and show off a few of the records I scored during my visit to Memphis as well. (A BIG thank you to Shangri-La Records for helping me find girl group records)
And I didn't take pictures of the shows because I gotta be honest. While I appreciate a photographer who can capture a live band well, I really hate the billion of people who take over audiences these days with their cell phones snapping terrible picture after blurry mess blocking the sight of all the people behind them. I hate them, they ruin the show experience for me and I dread being one of those people.
Stream the show live at WWW.WRIR.ORG or check back here in a day for the link to dowload the show and se the full set list.