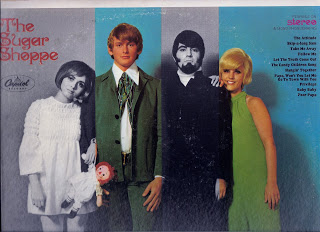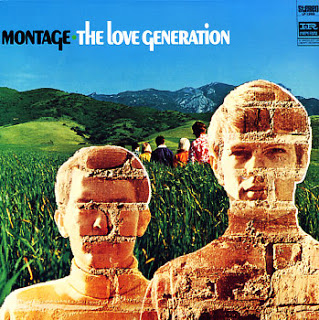 A few months ago on a used record buying binge I picked up two
LPs
that haven't really left my turntable since. For those of you with a low tolerance of cavity creating 60's psych pop I would suggest you look away now. . . but for those of you who love it as much as I do. . . let's hug. Or skip and hold hands. You decide.
I bring you two
sunshiney
bubble gum platters of pure sparkling joy. The Sugar Shoppe and Love Generation.
Both bands came from the late 60's and as far as I can tell
The Sugar Shoppe
were from Toronto, Canada and featured Peter Mann, Lee Harris, Laurie Hood, and Victor
Garber
. They released a few singles and this one S/T groovy long player. I don't think this record has ever been reissued and it is a crime really. It just begs to be cleaned up and given fancy liner notes littered with pretty technicolor pictures.
The Love Generation
was a California group and they too fall under the sugar coated vocal pop group category. They don't just dabble in happy - they radiate it in every verse and chorus. This
cd
appears to available only as a
pricey import from Japan
but the song "Magic Land" alone almost makes it worth the
splurge
.
Even better - I bring you song samples. My blog doesn't host
mps
3 or I should say I have no idea how to make that happen... so I decided to create a
myspace
page where you can hear a full track from each band.
My goal from this point forward is this - when I find a kooky old record...either dusted off from my personal collection or unearthed from a record store's used bin - I will post a track from it on my
blog's
myspace
page. I will only be posting out of print or really rare material and certainly if it is available in any way shape or form as a reissue I will point you in the direction of where to buy it. If someone knows of a reissue that I am unaware of please please please correct me and I will post the information for all to have.
Ummm
... and yeah I know how incredibly lame "my blog has a
myspace
page" sounds. I am actually gagging as I type the phrase again but what can I say I am a technology failure and apparently manipulating teenage networking sites is about as clever as I get.