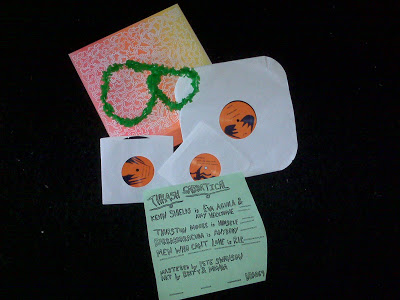 Artists:
Thurston Moore / Kevin Shields/ Barrabarracuda/ Men Who Can't Love
Title:
Thrash Sabbatical – Four Way Split
Label:
Deathbom Arc
Street Date:
Out Now and my guess is this is limited but to how many I have no idea.
Is the record playing at the right speed?
It is difficult to tell but I am following the instructions on each label.
Is the needle still on the record or is that the sound of my slip mat?
I keep turning around to double check.
Is that the sound of R2D2 being murdered?
Maybe.
Is that a deflating balloon run through pedals and an amp?
Could be.
Is that lawnmower trying to communicate?
Sounds like it.
Is that Thurston strumming away at something that is almost a song...completely collapsing the sound of chaos collected between two seven inchers and one 12"?
It appears to be so.
Most importantly I wonder how many people will buy this fancy pants hand screened box set thinking the shoegaze legend Kevin Shields has decided to collaborate with Thurston Moore. It seems totally plausible right?
Well the old and out of touch me has since learned that "Kevin Shields" is in fact a Noise act from L.A.. Actually this whole box features bands from the Los Angeles Noise scene as channeled by Mr. Moore and packaged up in a hand screened pizza box by Britt & Amanda of Not Not Fun. The final pièce de résistance is the green plastic lei one might find at a Party City location near you. I have to wonder if the lei colors will vary per box or of every box comes with a different random thingy. I guess you will need to buy a box set to find out - and then you can tell me what fun item yours came with.
After all these years I still don't understand the genre of noise or 98.764 % of Thurston Moore's non Sonic Youth material yet my better half however enjoyed the box set – very much so. He digs the sound of being pummeled in a dryer full of feedback. Looks like someone is getting a limited box set for his upcoming birthday.