Sunday, June 22 - Alley Katz - Day 2

* Guitar of choice (both days) Gibson
* Too weird - 4 different people wearing Die Kreuzen shirts - a band nobody seemed to care about back in the day
* Most referenced band of the weekend - Poison Idea
* Number of girls in bands both days- zero
* Somethings never change in hardcore -boy on boy action AKA the hug and shove, the ass tap, nipple tweak, and the cupping of the balls. Homoerotic? Maybe.
* Scariest drink - Joose Premium Malt Beverage 9.9% ALC
* Worst accessory - the bullet belt
* Highlight - Brian Walsby bringing rock and roll fantasy to life with crayola markers. For $10 he would quickly sketch you with with just about any pop culture or music legend. Want to see what you look like holding hands with E.T. and Buzz from the Melvins? This man can bring that dream to life.

* Favorite bands of the fest: Brain Handle, Warkrime, Wasted Time
*Crowd favorite: Government Warning but personally I am not into frontmen who are super play to the crowd theatrical.


Bands I remember watching:
THE LADIES (VA)
MADD MENN (CANADA/VA) - Member of Fucked Up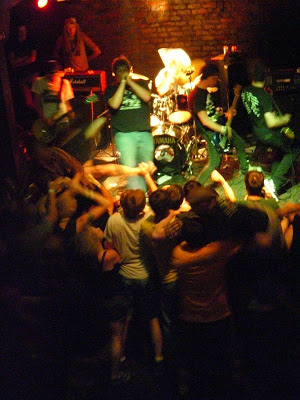 GOVERNMENT WARNING
(VA)
More Goverment Warning...
One last Government Warning picture. Yeah, I was thinking I was too old for this too but then I again I said that when I saw Converge on my 34th birthday a few years ago.