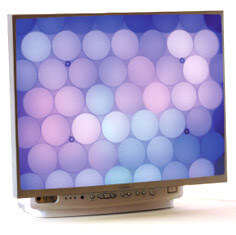 But I like TV too.
Pretty neato, right? Oh, what is it?
"
Tvbeeboo
is a screen accessory, an optical filter which reduce the color's definition of the pictures from television. Apply by suction on the shield'sTV, it transform it to a ambiant light. "
I have a square version of this that suctions to my TV and it is has been a party favorite for years. This item turns any home into swinging 60's bachelor pad in seconds flat. All you do is pick a channel (I prefer the cartoon network as it is usually colorful) and then stick the screen over it. Viola. You have grooviness where once there was none.