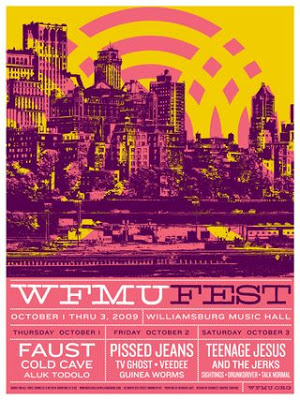 Dang I wish I could go to this. Someone up North please attend and tell me all about it!
"Breaking news: for three nights
October 1st, 2nd, and 3rd WFMU Fest
takes over the
Music Hall of Williamsburg
for our very first ever big-scale multi-day curated concert event. Hot damn. Check out this lineup:
Thursday October 1st:
Krautrock pioneers
Faust,
with
Cold Cave
and
Aluk Todolo
opening!
Friday, October 2nd:
a home run punk fest featuring
Pissed Jeans, TV Ghost, Vee Dee, and Guinea Worms!
Saturday the 3rd features the return of No Wave legends
Teenage Jesus and the Jerks
plus a triple attack setup of NYC noisemongers
Sightings, Drunkdriver,
and
Talk Normal
. Tickets will be available in advance via the
Music Hall of Williamsburg's site
starting September 3rd. We will
not
be broadcasting, so you better get on out and not miss this, it's gonna
melt brains!
More info on the bands after the jump:"