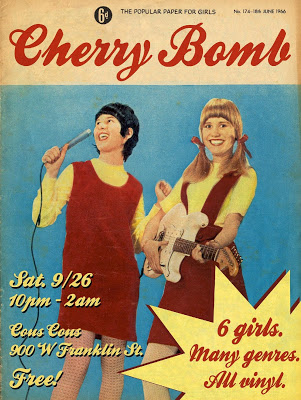 DOUBLE YOUR PLEASURE
WITH CHERRY BOMB!
This is the night I do with 5 other super swell ladies. This month we are splitting up into three groups and tag team DJing. I am up first and will be sharing the slot with the lovely Miss Sara Gossett. She and I will start at 10:45PM and will play probably mostly rare 60's records from all over the world.
If that isn't groovy enough for you, each DJ team of ladies will have themed outfits cause we are crazy like that. Oh and it is FREE.
Saturday, Sept 26th 2009
Cous Cous : 900 West Frankin / RVA
10:45PM to 2AM
21+
This is the movie we will be playing on the big screen : Daisies.