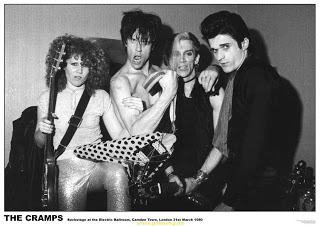 Music for misfits. Rock and roll as it was meant to be: dangerous, sexy, fun, wild, and over the top.
The Cramps personified the very American idea of what R&R meant by mashing up all of their influences which wasn't just old rockabilly, R+B, and instrumentals from the 50s and 60s; it included a love for kitsch, B-Movies, horror flicks, pin up culture...the best of the underbelly in America. Weirdos had a reigning king and queen for more than three decades and Lux and Ivy were their names. (The founding members of the Cramps)
There couldn't be a more fitting band to pick for the Halloween Cause & Effect show and lucky for us, Cramps fans have bonded together to help create file upon file of the songs Lux and Ivy mentioned as admiring in interviews. Uber Cramps fan Kogar the Swinging Ape compiled them all in one place and more incredibly is willing to share these gems. A friend passed along the link to all these songs which are posted
here
on the WFMU blog.
Lux passed away of February of this year quite unexpectedly and I have been itching to do a show dedicated to the band ever since. Some bands shy away from talking about the artist and songs that influenced them but not The Cramps. Tonight I can't wait to share with you two hours of music that helped shape them as musicians. Lux and Ivy were serious record collecting fanatics so I am thrilled to be able to play a few of their favorites -all themed around Halloween.
Listen in from 7PM to 9PM tonight at 97.3 on your dial in RVA or stream us live at www.wrir.org