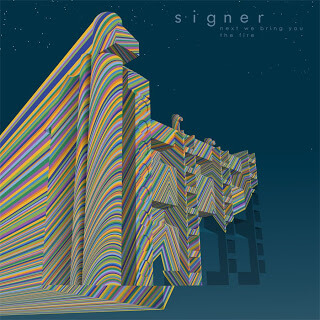 Artist:
Signer
Title:
Next We Bring You Into the Fire
Hometown:
Wellington, New Zealand
Label:
Carpark
Street Date:
Out Now
RIYL:
One of the best electronic records of the year, Arthur Russell had he gone shoegaze
The Hits:
All 36 minutes although I love the opening track "Nord All Black Keys" deeply
Richter Magnitude Rating Scale
- Major
Once upon a time it was bands like M83 who took me on an electro Eno-esque journey into the center of a storm of dreamy electronic lullabies that swirled around my head in dizzying beauty. But then M83 headed down a miserable path of rehashing 80's new wave pop synth songs that I wouldn't waste a quarter on from a gumball machine.
There has been a lull in my record collection for lush electronic soundscapes ever since. I have waited patiently for an electronic record to fill that void, an artist that could tactfully marry intricate and weighty layered sounds with delicate vocal melodies and thankfully Signer has created Next We Bring You Into the Fire. (His third release)
I don't throw around words like masterpiece very often but I am placing this award around upon this release and applaud the man (Bevan Smith of New Zealand) who has blended both shoegaze and electronica in a way that is both haunting and gorgeous… and by no means a copycat production of Loveless or name your favorite Caribou / Manitoba record here.
It is so rare these days to have an entire record capture no less hold my attention from the first song to the last but my ears can't wait to see where each song is going to take me next. Not only from to song to song but within each song the listener is led down an unpredictable dimly lit psychedelic path that makes me think of the tunnel boat ride in Willy Wonka and the Chocolate Factory (1971).
Bevan's moody choice of instrumentation and beats doesn't make me fear the dark, it reminds me that every now that hidden in the dark (think Kid A) can be a gorgeous sonic blanket of miraculous calm that will wrap around you and offer a blissful escape from all those failed Kevin Shields followers that have come before Signer's Next We Bring you Into the Fire.
PS: He is on tour RIGHT NOW and for you locals, touring / playing with another favorite band of mine ...the Ruby Suns, at the Rock and Roll Hotel in DC this Friday opening for the Dodos.