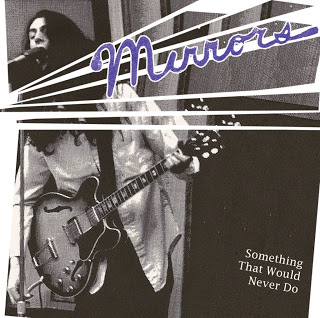 Artist:
Mirrors:
Title
: Something That Would Never Do
Hometown:
Cleveland, OH in the 70s
Label:
Violent Times
Street Date:
Out now / limited to 800 LPs
RIYL:
Garage bands who really like the Velvets and the occasional kooky noises on guitar that sound like a space gun
The Hits:
Taking one might make this a stoner worthy listen
Richter Magnitude Rating Scale:
Light
I don't why I do this.
It might be the obsessive record collector in me who sees that a reissue LP is limited to x number (no less only on wax) and magically it ends up in my shopping cart only to arrive on my door step weeks later. This is just enough time for me to forget what the hell it is so when I play it and it doesn't exactly wow me, I have to look on line again to remind myself what I was thinking.
This time I am talking about the Mirrors "Something That Would Never Do" limited to 800 copies and is a collection of material from a Cleveland, OH band that was around in the late 70s. The thing I have to wonder about myself is I am not a huge Velvet Underground fan and this groups' number one influence appears to be the Velvets so now I need to look back at the Aquarius records write up to see how they described the record to the point where I decided I needed to own it. Here is what they say about the record:
"
A killer vinyl sort-of best of from these legendary Cleveland punk rock new wave misfits. The Mirrors were only active for about three years in the mid seventies, in the about-to-be-obscenely-fertile Cleveland punk rock scene, breaking up just as Cleveland was poised to unleash a barrage of snotty punky new wave mayhem on an unsuspecting public in the form of the Dead Boys, Rocket From The Tombs, The Electric Eels, the Pagans, Pere Ubu and more! Think early punk rock mixed with a little Velvet Underground. Awesome stuff."

Apparently this is already sold out at many stores so the record collectors have voted this LP as a must own but my ears are disappointed. I appreciate that the Mirrors fall among the time line of pre-punk and imagine them resting well next to Red Krayola on a mixtape but beyond the rare factor of these recordings, the music lacks the hook filled or dynamic quality of the bands listed among their peer group. It has its garagey far-out interesting moments but after three listens in a row I think this record is still going into my sell pile.

(I actually put it out in the bins at the record store yesterday and it sold within a few hours so it's I might be alone in not loving this record)