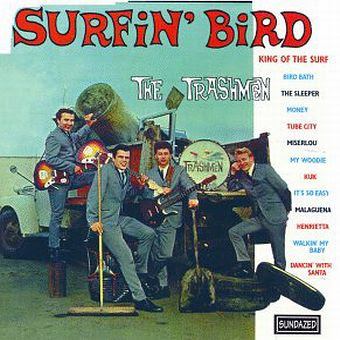 This email came to me this week from a friend ....forgive my laziness for the cut and paste but there is all sorts of cool information for those who care about quality rock AKA The Trashmen and Roky Erickson...YES!!!!!!
...The surf is rising and The Trashmen's debut New York area shows are coming right up! Do not miss what might be your only opportunity to see one of the greatest bands in the history of rock'n'roll right here, right now! And to make things even better, The Neanderthals and The Hi-Risers will be joining them for both shows.
And if that wasn't good enough already...the good folks at Sundazed Records who have done such a fabulous job with their Trashmen releases have been kind enough to press up a special limited edition live EP that will be handed out for free to attendees of these shows! The cuts include "Goofy Foot" and "Yellow Jacket" from the stupendous "Bird Call" box set (neither available on vinyl before) and never released anywhere versions of "I Call Your Name" and "Wild Thing"!
The shows also coincide with the WFMU Record Fair, so if you are not from the immediate area this would a great time to say, "Let's Go Trippin'"!
Friday Oct. 23rd Southpaw 125 5th Ave, Brooklyn, NY spsounds.com
Tickets here: http://www.ticketweb.com/t3/sale/SaleEventDetail?dispatch=loadSelectionData&eventId=1756154
Saturday Oct. 24th Maxwell's 1039 Washington St., Hoboken, NJ maxwellsnj.com
Tickets here:
http://www.ticketweb.com/t3/sale/SaleEventDetail?dispatch=loadSelectionData&eventId=1755894
And what about Roky Erickson, you ask? We are pleased to announce that we have just confirmed Roky for New Year's Eve at Maxwell's! He has a splendid new band and alongside his current live faves, has added such Top Ten hits as "Don't Slander Me" and "Reverberation" to the set. This will be a fabulous way to end the old year and begin the new. Tickets go on-sale Friday at noon via Ticketweb and will also be available at Tunes in Hoboken and Other Music in Manhattan. And if you don't have the incredible 13th Floor Elevators box set, The Sign Of The 3 Eyed Men, what are you waiting for?
http://www.ticketweb.com/t3/sale/SaleEventDetail?dispatch=loadSelectionData&eventId=2953214