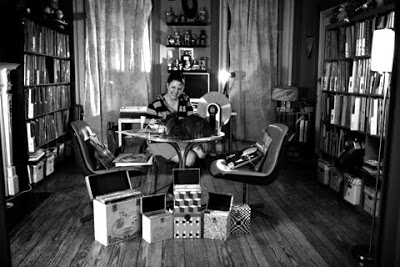 A year ago I sent out a Facebook notice asking if any of my local lady friends were interested in learning how to DJ for free in the comfort of a non intimidating space; my home. It was really a selfish request. My goal was to have maybe one of them like it enough to want to DJ out in bars too so I potentially would have at least one female DJ friend in Richmond.
Amazingly I got 5 replies rather quickly and in no time we were all squished into my living room around my turntables and mixer.
I have never taught something like this before so I clumsily tried to explain the basic technical aspects of how DJing vinyl works and then each girl spent about 15 minutes giving it a whirl. We did this just a few more times and much to my pleasant surprise, not only were these 5 ladies absolute naturals at spinning records, from very early on they had a remarkable ear for picking unique music and putting them in perfect order. Even more shockingly when I asked how the group of girls felt about DJing a friend's birthday party (Okay, my fella to be more specific) at a bar in town, no less in front of what I was certain would be a packed crowd of friends and strangers alike, they ALL said yes.YES!!!!
That is our story; a happy accident that has blossomed into something I could have never ever in a million kagillion years guessed it would become. A year later we are not just a female collective of music lovers... we have become friends, a support system, and have expanded out from that first birthday party into a group of people driven to give back to our community. We don't want to just play records (vinyl 97.3% of the time), we also want to raise money for local charities we believe in and support local artists of all kinds by creating events that merge us all into shared events. To be honest, at this point the fact that we are girls is the least interesting aspect of our story in my eyes. I am constantly inspired, motivated, and empowered by these wonderful women and am so lucky to call them friends. We aren't a clique. We aren't cookie cutters. What I love is just how totally different we each are from each other and the music we DJ during each of our sets only helps prove that point.
Music is the thing that connects us yet makes us distinct from the next and I am honored that artist PJ Sykes took the time and effort to explore this very point with stunning black and white images of each girl along side their record collection. ( As in the picture of me above) This isn't just a photo expose, he also took the time to ask us questions about the music that defines us, never once exploiting the fact that we happen to all be girls. And just in case that isn't enough to lure you in, he has also shared one song per girl to stream on the site so you can get an audio example of what we love.
I am so thrilled to be a part of this collective and humbled that PJ has taken us on as an art project. Click
here
for the full story. THANK YOU PJ!!!!!