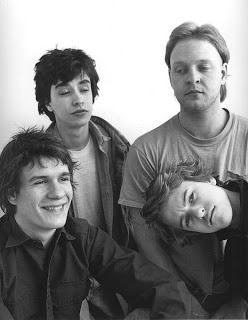 Its really this simple. For this classic Minneapolis rock and roll band, Alex and I have created the ultimate set of songs the group has covered over the years as well as all the bands that inspired them to make music. Some radio show sets practically write themselves and really the only catch to tonight's amazing line up of material is the fact that we have a lot of curse words to bleep.
Sometimes drunk (okay...more often than not), sometimes sloppy, the important thing to note about The Replacements was they were perfectly imperfect. Raw, honest, and stuck somewhere between a tragedy and a comedy; the catalog this band left behind in their wake displays the growth from garage punk/hardcore band to a group of musicians finally comfortable enough to record fully fleshed out pop songs that their idol Alex Chilton would be proud to share a namesake with.
We kick off tonight's show with a nod to the songs Westerberg and company grew up listening to (Country, AM gold hits, and R&B), and then we dabble in the band's core genre influences from Rock to Glam, to Punk and then end with some examples of the bands that were off-shoots to the Mats.
We will be sober tonight playing these two hours of some of the best music known to man but don't let that prevent you from celebrating this raucous set with a drink or two. If their was a soundtrack to raise a glass and make a toast in the name of Rock and Roll... tonight will be it.
Tune in on the dial in RVA from 7PM to 9PM at 97.3 or listen on line at www.wrir.org.
Looks terrible but the sound is there....
And the Sire has disabled many of their videos but their channel is here: http://www.youtube.com/watch?v=fl9KQ1Mub6Q