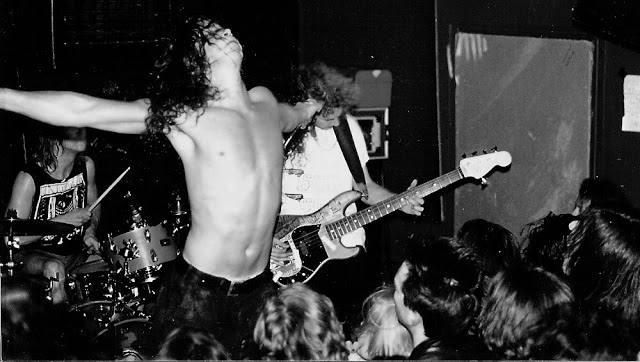 IF YOU REUSE MY PHOTO PLEASE GIVE ME CREDIT : TKW
When I took this picture, I was a senior in high school and in love Soundgarden's most recent release at the time,
Louder than Love
. I had already followed the band up North for multiple dates (they played with Voivod and Faith No More and I actually got snowed in after the Boston show because it was the dead of Winter) and this Maxwells performance followed those shows.
I recently read an
article
about this particular show and it blew mind to discover the back story to that night all these years later.
"After the tour had officially come to an end (Voivod had already left), Faith No More and Soundgarden were making up a gig playing a rescheduled date in a tiny restaurant/bar called Maxwell's in Hoboken, NJ. The tour had been fun, with many power-packed, event-filled shows, but now the mood was somber. Something was overshadowing the performance, and I was curious to know what was going on.
Soundgarden was sequestered in their tour bus, and there was a rumor that they were gonna cancel their show. Apparently, there was a conflict with the local powers that be and it was uncertain, at that time, that there was going to be a gig to stick around for. But there was also something heavier people were dealing with. Chris seemed particularly morose and brooding. This didn't seem like the usual hangover-vibe or the somebody's-pissed-off mood that happens on a tour. Something seriously uncomfortable was in the air and intensified by the situation or not, the bad vibes were pretty thick.
It became obvious via hindsight that there was indeed something more than tour trouble marring that evening. I found out later that, back home in Seattle, a friend of the band, especially close to Chris, lapsed into a drug-induced coma, and they didn't know if he was gonna pull through. The singer for Mother Love Bone, Andrew Wood, was fighting for his life. I understood why they felt so affected, as I realized how close the band was to Wood after years of friendship and what an impact he had on me even though I met him only briefly some years earlier.
Soundgarden took the stage of Maxwell's and did the show despite what Chris was going through. He talked briefly about the traumas of drug addition and dedicated the set to Andrew Wood. The crowd that evening didn't
make the connection
, not knowing what had transpired, but as I look back, I could appreciate to a much greater extent, the overwhelming anxiety the band must have been experiencing.
Cornell and Wood had been roommates. "Just like six months or so, right before or right when Love Bone started," Cornell says. His need to resolve Andrew's death took the form of two songs that he wrote about Wood: "Say Hello 2 Heaven" and "Reach Down." Chris demoed the tracks and played them for his drummer, Matt Cameron, and Mother Love Bone's Jeff Ament and Stone Gossard. With the addition of Pearl Jam guitarist Mike McCready and vocalist Eddie Vedder, the six became Temple of the Dog, named after a lyric in one of Wood's songs. Rehearsals and jams were so inspired that before long, there was a whole LP's worth of material, released by A&M earlier in '91." -
by Christine Natanael (Reflex)