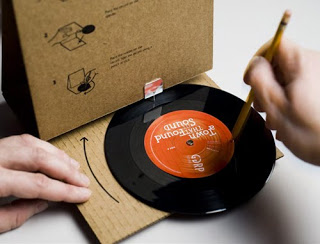 Re-posted From a Marketing Site:
Griffiths, Gibson and Ramsay Productions
seems to have a hit on its hands with a direct mail promotional piece that it started mailing out to ad agencies across Canada and the United States in April.
Rather than throwing them in the bin, creative directors are calling the Vancouver-based sound design studio to get extra copies to take home to their kids.
Grey Vancouver
created a portable record player from corrugated cardboard that folds into an envelope. The record can be spun with a pencil and the vibrations go through the needle and produce a recording of a children's story called "A town that found its sound."
"It's actually shocking how good the sound quality is," said
Geoff Dawson
, associate director at Grey, adding that it took a long time to play with different materials and designs to get the audio just right. Dawson says he hit on the idea while creating a website and new brand identity for GGRP earlier this year.
"There are a lot of parallels between GGRP and vinyl," said Dawson. "They both have this really strong history, both are enjoying a resurgence in popularity and they both are really representative of a true creativity in sound."
"As soon as we saw and heard the record promo piece, we knew it was perfect for GGRP," said GGRP partner
Gord Lord
, in a release.
"The response we've been receiving has been amazing. The direct mailer is doing exactly what we hoped for and more."
Dawson said the agency's brief was to showcase GGRP's creativity and love for sound.
"We know creative directors want to partner with people who have the capability and understanding to make their ideas better, and when you see something like this it just shows that GGRP gets it. They know how to be engaging, they know how to break through clutter they know how to have as much fun as possible."
More posts about it:http://www.ggrp.com/making-noise and http://www.ggrp.com/