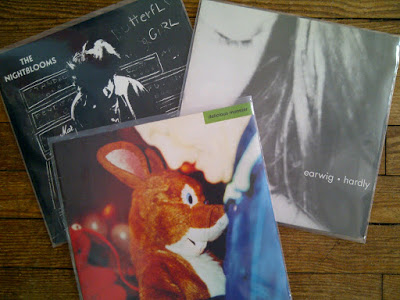 I sang the praises of Earwig's - Hardly
a few months ago but here are two more bands for you.
The Nightblooms : Butterfly Girl : Fierce Recordings : 1992
This was a Dutch band that existed from 1987 to 1996. This band blew me away because they were shoegaze to the most brutal levels of noise and static yet the female vocals were so fragile and delicate (and such a cute accent / lisp!). When I am asked to name my top 10 shoegaze songs of all time, "Butterfly Girl" is always on that list. I was lucky enough to see them play live at Maxell's in Hoboken, NJ in the early '90s but they were a bit on the sleepy side live (although loud), a common issue for many shoegaze bands (including MBV) during this time period.
Delicious Monster
(Rachel Mayfield ) : Snuggle : Flute : 1993.
(Oddly this release is not mentioned on Discogs!) They have several EPs (at least 5) and I believe one full length called Joie De Vivre, none of which go for much money on Ebay. I loved the vocals for this band because they go from super darling to daggers in seconds flat.