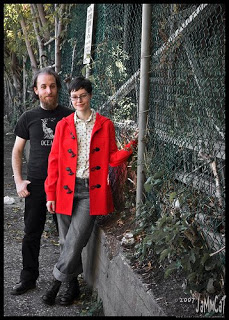 Apparently
Nadja
(one of my favorite shoegaze metal bands) is in the running for most records released in a year against Jesu...and ironically both bands fall under the same umbrella of wall of drone melodic bliss ...so the battle is on!
From the band's mailing list email:

"Archive has re-issued Nadja's long (well, a year) out of print album "Thaumogenesis" along with a companion live disc, "Thaumoradiance," from our performance at the Music Gallery in Toronto last October.
Nadja has two forthcoming albums (with accompanying t-shirts) which are now available for pre-order:
"Skin Turns to Glass" from The End Records -- the last of our original cdr releases to be re-worked and re-recorded:
I found this awesome picture of the band here.