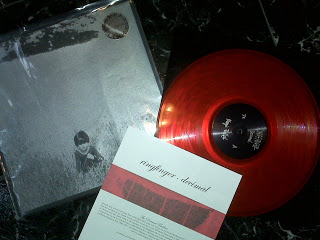 Normally I don't blog about my own music but since the very first copies of my LP arrived at my door today I have decided to post about them. I am super stoked with how they turned out and if you are thinking the packaging looks like an early 90s
emo
record...well it does. Guilty as charged.

Here is the scoop:


*The label is Magic Bullet.

*The official street date is March 25th 2008

*You can buy it from Magic Bullet direct as well as Interpunk and I think Dischord direct.

*Retailers - Mordam / Lumberjack should also have this record for sale.
*The cover wrap is 12.5" x 19" - silver ink silkscreened on black stock.
*We pressed 500 LPs total - 251 red vinyl and 249 black. Technically that makes the black more rare!
*The record sits in a white dust sleeve which has then been inserted into a black jacket.
*The center label: all black and each one has been hand marked in silver ink to say Ringfinger /Decimal and Magic Bullet Records on all copies.
*Each record is hand numbered on the inside of the cover flap.
*There is a lyric sheet with full liner notes.
*The record and jacket are in a clear plastic sleeve which carries a silver sticker that reads Ringfinger Decimal because the front cover does not have any words on it at all.
Hooray!!!! And thanks to Magic Bullet!