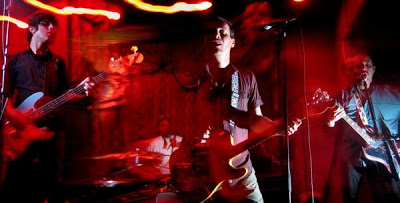 Artist -
The Night Marchers
Title - See You in Magic
Hometown - San Deigo, CA.
Label - Swami
Street Date - 4/22
RIYL - Rocket from the Crypt and all that is John Reis
All you need to know about this band is the line up:
John Reis - Rocket From the Crypt/Drive Like Jehu/Hot Snakes...
Gar Wood - Hot Snakes / Beehive & the Barracudas
Jason Kourkounis - Hot Snakes / Delta 72
Tommy Kitsos - CPC Gangbangs
And this is basically a garage rock record. It sounds like your usual John Reis ROCK with the spirit of Mick Collins from the Gories/Blacktop / Dirtbombs thrown in. I know the record isn't due out for quite some time but you can listen to the tracks on the myspace page which is the link above.