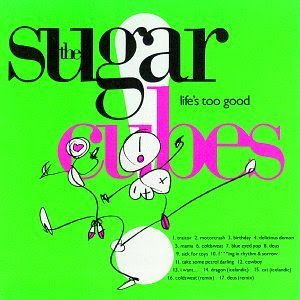 Artist - The Sugarcubes
Title - Life's Too Good
Hometown - Iceland
Label - One Little Indian / Elektra
Street Date - May 31, 1988
RIYL - Björk, Iceland, one of the most spectacular and acrobatic vocalists of all time, The Pixes on ice, guys who walk all over a good song.
The Hits - "Birthday", "Motorcrash", "Deus", "Delicious Demon", "Mama"
Richter Magnitude Rating Scale - Great.2
Formats - Depending on the country and time of press the cover of the LP varied in color from classic neon green, to pink, to yellow, to orange, and blue.
From WIKI
Performers
Vocals:
Björk Guðmundsdóttir
and
Einar Örn Benediktsson
.
Trumpet: Einar Örn Benediktsson.
Guitars:
Þór Eldon Jónsson
.
Keyboards:
Björk Guðmundsdóttir
.
Bass:
Bragi Ólafsson
.
Drums:
Sigtryggur Baldursson
.
Lyrics and music: The Sugarcubes.
Acknowledgement:
Friðrik Erlingson
.
Personnel Engineering:
Kjartan Kjartansson
,
Gerard Johnson
,
Gail Lambourne
,
Mel Jefferson
,
Brian Pugsley
and
Ken Thomas
.
Production:
Ray Shulman
and
Derek Birkett
.
Sleeve: P. White at
Me Company
.
Photograph: David McIntyre with collaboration of Pinks.
Publishing:
Second Wind
.
We have the UK to thank for breaking many an artist globally but 21 years ago NME, Melody Maker, and John Peel all embraced a little known band called The Sugarcubes from an even more unknown country at the time, Iceland. In fairness the experimental art rock band K.U.K.L. of which The Sugarcubes morphed out of had released music on Crass Records but the band fell under the radar to most of the mainstream.
The song "Birthday" ("Ammæli" in Icelandic) was their first international single released on One Little Indian. In Iceland this single was released on 11/17/86 but it became a UK radio hit in 1987; a rather disturbing song about a little girl having an affair with a man celebrating his Fiftieth birthday. It catapulted the band into a smashing international success and was the lead single off their forthcoming first full length record called
Life's Too Good
.
This debut for the band was released 20 years ago – May 31st 1988. Before 1988 the world had no idea who Bjork was no less that she would become a music icon during our lifetime.
Life's Too Good
opens with a VERY quiet spoken word piece by Einar talking about teaching the little angels how to play harmonica which leads into a brief harmonica solo. The muffled absurd false start to the record suddenly erupts loudly into the true beginning of "Traitor;" a jarring direction for a first time listener who couldn't possibly have been expecting it.
From this point forward we are introduced to the dive bombing dynamics of Einar speaking through each song who deconstructs whatever strong pop melodies Bjork belts out. The stage is set with what will continue to be 33 minutes of complex, strangely erotic black humored poetry presented from entirely two different kinds of voices, one male and one female. Together they both stomp and scream over keyboards, drums, guitars, drums, and trumpet. This is the basic Sugarcubes formula which remained through all of their discography.
Life's Too Good
featured a total of four singles which were released separately / singularly between 1987 and 88. They received decent radio play (all passing "Birthday" on the charts in the UK) as well as gaining attention on a still relatively new cable television network called MTV.
"Motocrash", track two and the last of the singles to be released is a prime example of the Sugarcubes famed dark lyrical content riding and bouncing on top of a driving, playful, chaotic rock song.
"Riding on my bicycle I saw a motorcrash. A proper motorcrash. Lots of spectators. I rushed to the center. Saw the injured parents. Cuts on the children. An awful motorcrash. So dangerous motorcrash. So terribly bloody Motorcrash"
While researching the record to write this piece I was rather shocked to read that "Delicious Demon" (think Nordic circus playing cowboy and Indians) was never released as a proper radio single. Like so many of their songs it trots along with Einar and Bjork dueling it out within the verses and then it breaks wide open into a full gallop during the chorus- cow bell and all. "Birthday" hinted at Bjorks unbelievable range but her true twisted sonic abilities explode like fireworks all over "Delicious Demon". I didn't know a human voice could make so many sounds and it was the first time I had ever heard a girl spring from delicate whispers to a hurricane scream in a heartbeat. (for those of you who know my music there is no denying who my vocal idol is) I still don't know how such a small person can make such a giant sound. Two decades later I continue to scratch my head over how she pulls off all those tones with just one throat and chest. It is as if her vocal chords are the size of our solar system- out of this world and massive beyond comparison.
"Mama" marches out of the gate with just a bass line leading the way with Bjork's voice on a leash behind it. Enter slowly stage right the rest of the instrumentation and suddenly the melody takes off like a race horse with terrifying screams and cries behind it. We have beauty being strangled and this too is a theme we see repeated throughout the band's career. Without this good verse evil push and pull we would have just another band but the Sugarcubes handcrafted and perfected this pattern.
"Coldsweat" and "Deus" were the final two internationally released singles. I never fully understood why or how the limping bump and grind that defines "Coldsweat" outpaced "Birthday" at radio back in the day. In hindsight it is a bit ironic since "Birthday" is THE song everyone associates the band with all these years later. I was 16 when I picked up this record in 1988 and "Coldsweat" which kicks off side B was the song I always skipped past (still do today) to get to "Deus". I have always considered "Deus" to be the sister track to "Birthday". They are similarly paced but "Deus" is less dreamy and more of this earth. This song, no matter how many times I listen to it, still surprises me. The Sugarcubes had an inherent ability to keep the listener guessing by not following the traditional verse chorus verse chorus song structure. Their unpredictability was part of their power and to this day offers the listener more of an exciting runaway train ride than a safe go round on a carousel.
It was somewhere today around track 9 or 10, between "Sick for Toys" and "Fucking in Rhythm & Sorrow" that I tried to place myself back in time. I wanted to recreate what band I would have musically speaking drawn a parallel to The Sugarcubes. The only band that comes to mind who barely matches their off kilter polar opposite energy of male –v- female as well as melody –v- aggression is The Pixies. It then occurred to me that a mere three months after The Sugarcubes released this record,
Surfer Rosa
was released, yet another classic record deserving of a post at a later date.
To this day I mostly prefer the first half of
Life's Too Good
, after "Deus" the record loses my attention. The hooks become fewer and farther between and in wanders more experimental material including fog horn like sounds with even more spoken word banter. Considering the first 8 tracks are pretty much flaw free pure genius with female vocals never to be outdone again, the few weak tracks act more like petite speed bumps between the cataclysmic hits.
For the 6 years The Sugarcubes were an active touring band, they put helped to put Iceland on the map for music lover's around the world. They practically gave birth to their country's now booming tourist business and they also opened the door for bands like Sigur Ros and Mum to be excepted worldwide in the years to come. Without this parade of talent pouring out of Iceland I don't think the now annual Iceland Airwaves Music fest would have existed no less be as popular and well attended as it is either.
What defines a classic album will vary from person to person but for myself, a record sounding as poignant to me now as it did 20 years ago certainly earns it the highest honor in my record collection. This record isn't just classic though,
Life's Too Good
was a catalyst that introduced the world to not only Bjork (who in turn brought electronic music to the general public) but the culture and country that created a band unlike anyone had ever heard before. There is no copying such an extraordinary level of talent and creativity, so what makes this classic album so unique is that it would be impossible for someone to recreate. Ever.